In this internet-driven world, everyone is glued to their smartphones. People spend nearly 2 to 3 hours on their mobile phones, simply scrolling and checking for updates and messages. When all the customers are available right on smartphones, where should the businesses present? Yes. All businesses, right from startups to big brands, are heading towards mobile phones. 
Mobile apps are ideal ways to discover potential customers for your business. As mobile apps are built on both iOS and Android, it helps businesses target customers worldwide. The mobile app acts as a smart marketing tool that helps your business stand ahead of your competitors. Right from providing information about your new launches, offers, discounts, a mobile app can do it more precisely.
Push notification is an amazing feature that enables mobile apps as a miraculous marketing tool. This feature allows businesses to send promotional messages to the user's mobile phones even when they are not using the app. 
Mobile apps take your business a step closer to customers for sure. Especially for Startups, when customers get to see your logo and visuals every time they log in to your app, they recognize your brand name easily. Also, the apps let you serve your customer better. Yes. With apps, you can serve the customer round the clock. The apps can entertain the customers for any queries, anytime.
Mobile apps have already overtaken the mobile website. An exclusive mobile app is easier to use and navigate than a mobile website. Mobile App development is a good business that can generate excellent revenue. If you are looking for some cool mobile app development ideas, we have got a list for you.
Before moving on to the list, check the mobile application usage statistics. It is increasing and will increase exponentially.
Mobile Application Usage Statistics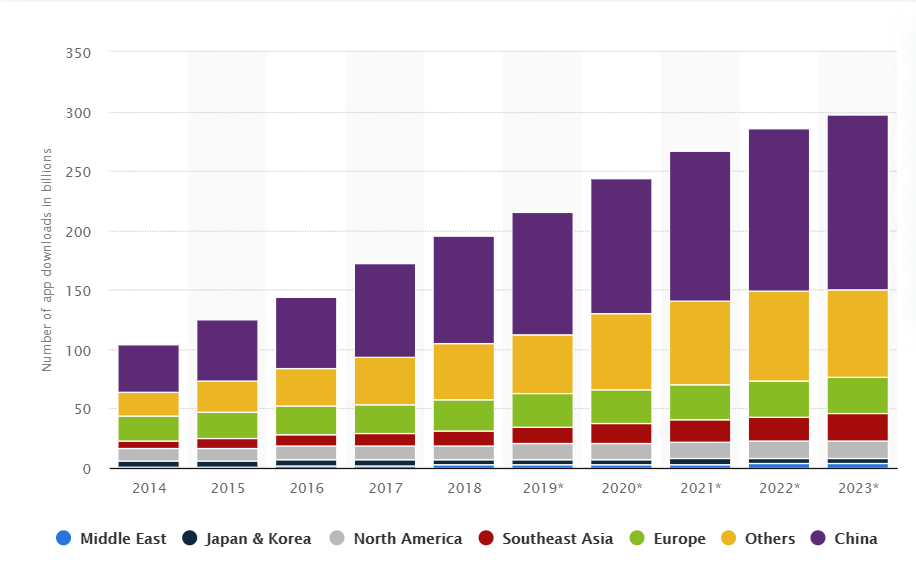 Source: https://www.statista.com/statistics/266488/forecast-of-mobile-app-downloads/
Creative Mobile App Ideas
Many people out there want to earn something extra without ruining their routine. They cannot afford to join a full-time job but look for flexible and temporary jobs to earn at their own pace. People are constantly looking for such platforms to find freelance jobs. A mobile app for connecting employers and freelancers will be a huge success. This innovative and unique app can benefit students and people who are looking for flexible/part-time jobs. 
Parenting babies has its own challenges. Especially when both of the parents are working, it can be overwhelming for them.  Finding a work-life balance and keeping up their schedule for kids can be daunting.  To make life easier for such parents, baby needs apps will be helpful. Parents can order anything for their babies in this app.  Right from baby food to diapers, face wipes, nourishing creams, and medicines. This app will work wonders and become a super hit among young parents for sure.
Not many people read books in the same genre as you do. Very few people may have the same interest as you. How do you find them and ask for recommendations? Asking randomly to a stranger on the internet is not the best go. Creating a platform for avid readers to share their views can guide many people. You can also use such platforms for academics and can use it as an education app as well. In short, such book recommendation apps can benefit students and readers across the world.
No one ever says no to holidays and trips. Trips are fun; however, planning for them is not. How about a mobile app that can do all the planning for your trip? Just like a tourist guide. All details right from hotels, site seeing, transport, restaurants will be available in the app. Such trip planning apps are reliable sources for people to plan trips instead of blindly trusting search engines. Trip planning apps are for all the travel and fun-loving people worldwide. 
On-Demand Home-Cooked Food App:
We all love to order from restaurants for occasions and parties. But, we do miss home-cooked food often. In these busy lives, sometimes it is not possible to cook three meals all by yourself. How to have healthy home-cooked food that is light on the stomach? Having an app for ordering home-cooked food will be a boon for busy working people, single parents, and many others. Build an app for home-cooked food and help users make healthy choices every day.
With two or more cars in every household, more and more vehicles are getting on the streets. It is challenging to find a parking space in a crowded street at a prime time. Having an app for finding parking spaces can be a game-changer. Thank us later. We are very sure that this parking spot finder app is going to be a huge hit.
People handle too much stress these days. Be it on work, relationships, and finance. The stresses add up day by day and leave people to choke. Meditation apps can help users relax and improve their mental health. Such apps are ideal for people to provide guided meditation and practice mindfulness. These apps can have more advanced features to offer personalized therapy like experiences for people. 
Restaurant Reservation App:
Everyone wants to eat in the best restaurant but obviously does not want to wait for long hours. Yes. People want to dine comfortably as well as conveniently. Restaurant reservation apps allow people to dine at their favorite restaurant and at a convenient time. These apps are already a huge hit among foodies and people with big families.
Many parents buy those expensive branded toys to make their kids happy. However, kids grow fast, and they rarely play with those toys. So instead of buying brand new toys again,  what if you can exchange your old toys and get new ones? It will make both parents and kids happy. Having a dedicated mobile app for toy exchange has a huge market already. 
Health issues can arise anytime and for anyone. We can't predict prior most of the time. How about having a dedicated telemedicine app for connecting with doctors? The app will let you schedule your appointment with a specific doctor. The doctor will provide virtual assistance and can even provide live video sessions. 
Apart from that, you can order and track your medicines as well. In this 2020 pandemic, such telemedicine apps allowed people to get treated with social distancing. Telemedicine apps are already creating a revolution in the health industry. 
Outdoor Navigation Apps are pretty much there everywhere. With Google Maps, you can easily find directions. But how about Indoor Navigation Apps? Those posh malls with several floors or huge international airports, or even big hospitals can be quite confusing for anyone to navigate. Indoor navigation apps come in handy to help you find the restrooms, stores, or other facilities inside those huge buildings. Such apps are ideal for people on the go and to move around the new place more comfortably. 
People rarely have time after a busy week of work. However, maintaining cars is mandatory despite their busy schedule.  On-demand car wash apps are ideal for such people stuck in their busy lives. With this app, the user can book car washes prior. Also, the users can get their car washed either at their own garage or the service center.  These on-demand car wash apps help people get their car service done at their comfort and perhaps have a peaceful weekend.
People tend to do decorations for Christmas, parties, and gatherings. However, they rarely find time to buy all the decorating stuff in advance. These decorating apps come in handy for those last-minute shoppers. People can order/rent all kinds of decorative items with this app. These apps can include event management facilities too. So the users can hire persons to manage their events and parties. The scope for such innovative apps is always wide open.
Getting groceries for the household is a never-ending process. People would need to buy something or other for their everyday needs. Instead of going every time to the crowded supermarket, people will prefer Grocery delivery apps. These apps are a big relief to people as they can buy groceries at their fingertips. Yes. People can relax their day at home as they get delivered with groceries right at their home. 
Beauty Specialist Hiring App:
People want comfort more than anything else in their busy lives. They do not want to travel to a salon and wait for long hours to get their nails/hair done. Instead, they would prefer a beauty specialist hiring app for such services. This would save a lot of their time and get things done whenever they want. Such on-demand beauty specialist hiring apps are going to rule the future for sure. 
On-Demand Gifts and Flowers Delivery App:
Imagine that you are getting ready for a party evening. It is already late, and the traffic is crazy. Would you prefer going to a gift shop or a nearby florist at that sort of time? How about having someone who does all that work for you? So that you can get ready for the party peacefully. On-Demand Gifts and Flowers Delivery App are right for that purpose. These apps can do the shopping so that you can party hard. These kinds of innovative apps are always in demand.
Home Cleaning Service App:
People are busy working outside the home all days of the week. In that case, they would prefer relaxing on weekends rather than cleaning their homes. Home Cleaning Service Apps are right here for their rescue. You can book house cleaning services like dusting, mopping, washing utensils, etc. The app's service list goes on, just like your house chores list. Now, with such home cleaning service apps, you can hire a person and get your house cleaned in a few hours. 
People move on to new cities either for their education or jobs. Most of the time, they tend to live alone and not know anyone in the new city. That doesn't mean they need to remain the same way. Eat together app can find the perfect companion for anyone based on the location, schedule, and preferences given. People can eat together, socialize, become friends, and have fun in the new city.
They say relationships are complicated. However, these dating apps can help you find your partner more easily and conveniently. These apps are trustworthy platforms as the user profiles are linked with the social media profiles. You can always check their identity before initiating a conversation. By checking their profile details, you can easily figure out whether that specific person will work for you. Such dating apps are not only for youngsters but for those older ones who are looking for long term relationships as well.
Tenant Finder and Communication App:
The Tenant Finder and Communication App enables landlords to find their potential tenants and communicate with them directly. It allows transparency between landlords and tenants without any third parties. Thus, ensuring no unnecessary brokerage to be paid from both house owners and tenants. The two concern people can discuss house rents, maintenance costs, or any other issues directly. Such unique apps provide solutions to never-ending house searches and prevent paying hefty brokerage amounts.
Final Thoughts:
With skyrocketing usage of smartphones, mobile apps can definitely take your business much closer to your customers.  With millions of mobile apps doing well already across the world, you can always add your creative touch and stand out. By owning innovative and creative mobile apps, you can turn your startup business into a well-known brand much quicker and pretty easier.
If you want to get more free Instagram followers to promote your business or your new company, you can try to use GetInsta, the best tool to get free Instagram followers & likes
Author Bio:
Vipinraj Nair is the Founder and CEO of Cypherox Technologies Pvt. Ltd, a leading web & mobile app development company. He loves to write about the vital role of web development for different industries, custom web development, digital marketing, website cloning, mobile app development, and the latest technology trends.