Acrylic is a combination of material that speaks of strength, stiffness and optical clarity. Acrylic sheets are easy to mould and fabricate and are often used as shelves in jewellery stores since they bond well with adhesives and solvents. It must be noted that it has superior weathering properties as compared to other plastic products.
Properties of Acrylic Plastic:
It has glass-like qualities when it comes to brilliance, clarity and transparency. The only difference is it is half the weight of glass and many times the impact resistance of glass. Some of the most common uses of acrylic plastic are skylights, displays and shelves, fixtures and more.
These are popular as skylights because they are durable and are hard to break.
Types of Acrylic:
There are different types of acrylic plastic, depending on their composition and properties. Some of them are:
Extruded Acrylic: It is easiest to bond using solvent types of cement and also the easiest grade to thermoform. These can be manufactured to any length, which is cost-effective since they are cut out from custom sheet sizes.
Acrylic Packs: It is a combination of different acrylic sheets, having varied characteristic properties. Some of the component sheets include Clear OPTIX Acrylic and Impact Modified Acrylic.
Acrylic Rods and Tubes: Usually used for point-of-purchase display applications, acrylic rod, and tube, they are available in a wide range of sizes.
Cast Acrylic: Compared to extruded acrylic, these have better chemical resistance and superior machining characteristics.
Some of the other acrylic plastic types include OPTIX® DA Acrylic for Digital Printing, OPTIX® LD Acrylic for Light Diffusion, OPTIX® 95 Acrylic, OPTIX® 95 LED Light Diffusing Acrylic, OPTIX® Frost LED Light Diffusing Acrylic, OPTIX® LED Satin, OPTIX® Lum 1 and more.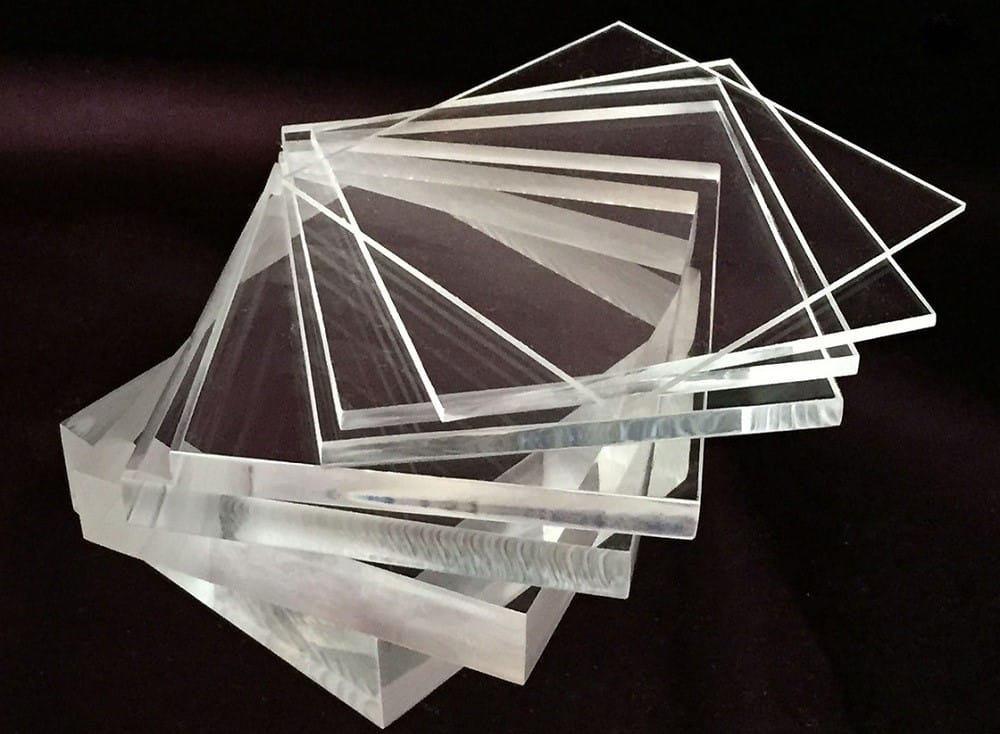 Uses of Acrylic Plastic:
Acrylic plastic has the same dazzle and glaze as Glass and is therefore used as a good replacement for the same. Glass is difficult to handle and maintain, which is why many shops use Acrylic instead.
Some of the other reasons why acrylic plastic is used are because they are lightweight, transparent and extremely durable. It is also referred to as Plexiglass.
Some of the common uses of acrylic plastic are:
Usages in Home Improvement:
Most homeowners fret about the usage of glass on centre tables because of the fear of breaking them accidentally. Acrylic plastic is a very good replacement for all of them since it is equally transparent but durable. It is therefore cut to size for kitchen splashbacks and other decorative panels.
In the Sporting Industry:
You jump, thump or roar, it is acrylic plastic that soars with you. Durable and extremely strong, it forms the sole of the shoes, tennis racket handles and even bike helmets.
Aquariums:
Not all aquariums are made of glass. Although there are several options apart from acrylic plastic, people prefer using it because of its strength and durability and ease of maintenance.
In the Military:
Whether breaking the sound barrier or enduring the extreme pressure under the sea, acrylic plastic has stood the test of time and substances to emerge as one of the best replacements for glasses. It is so strong; it is being used to make windows for submarines.
Paint:
Have you ever wondered what makes your car waterproof? Or the acrylic paint that is being used these days? You guessed it right, its trace materials of acrylic plastic in the paint, which makes it resistant to water.
Whatever you use the acrylic plastic for, ensure you have the right quality and the right composition so that you get what you expect.