With many losing their jobs because of the pandemic, it seems people have considered eCommerce as their primary source of income. Online marketplaces such as Amazon have given the unemployed new opportunities to recover lost revenue. However, being a successful seller on Amazon isn't as simple as you might think. You will be competing with 2.3 million other sellers.
Amazon listing optimization is necessary to be competitive in this marketplace. You can find a lot of material online about methods and techniques that can improve your ranking, and not all of them are the same. However, they do agree on something: the mistakes that sellers make. Let's discuss those mistakes and the ways we can fix them.
Mistake #1: Not Using Any Tools for Keyword Research
This idea might not be what the "grinders" like, but tools are here to make our lives easier. Being a seller on Amazon is hard enough as it is without the prospect of doing everything manually.
The fact is, doing your keyword research sans tools is like asking each of your friends what kind of clothes they like by going to each of their homes and getting the information personally. With the proper tools, you can call them on your phone or create a chat group to send them messages without leaving your house and putting their answers on a list using your computer.
SEO Tools
More shoppers searching for products are now going to Amazon directly instead of using search engines. More specifically, 44% of potential buyers now forgo the usual process of going to an external search engine first before clicking on the results that will take them to an eCommerce platform. That makes Amazon the top option for price research, while Google only comes second at 34%.
With this being the case, many sellers concentrate on Amazon and forget that external SEO tools can still be handy to find out what the other 34% of the population is searching for — tools like SEMRush, Ubersuggest, Screaming Frog, and many others. These keyword research tools will help you connect your Amazon keywords with the keywords that customers are using in many search engines.
Amazon Keyword Research Tools
There are several ways to find the best-performing keywords on Amazon searches. For example, you can type the first few letters of your prospective keywords and look at the suggested words that will pop up on the search field. This will give you an idea of what Amazon's customers are looking for, but not much else. It can't give you figures such as search volume, trend, cost-per-click (CPC), or competition.
Using Amazon-specific tools will give you an idea on what keywords are worth using. For example, ranking for very competitive keywords such as athletic shoes or basketball shoes may generate a lot of traffic, but the competition for them might be too much for you. Using a keyword tool, you can find other less-competitive keywords to rank for, giving your product listing less traffic, but with less competition and a higher conversion rate.
Mistake #2: Thinking the Content of Your Listing Doesn't Matter
Amazon's A9 algorithm has recently had updates that forced many sellers to modify their Amazon listing optimization techniques. The said updates focus on relevance and readability more than any other factor.
Thus, concentrating on the quality of your listing holds more weight than cramming as many keywords as you can, though keywords are still important. What matters to Amazon is creating a listing that converts, generates good customer reviews, and adds more money to its coffers. Just make sure you enlist in the Amazon Brand Protection Program, so you'll know if somebody is copying your product listings.
Let's look at each component of a product listing and look at how to make them better.
Product Titles Should Rock
Amazon requires sellers to create a product title that must not exceed 200 characters, including spaces. Unnecessary special characters aren't allowed. You should also make sure your title doesn't include promotional phrases, like "free shipping" or "50% off."
Your title should contain information that identifies your product, exactly. In most cases, the product-identifying information is the keyword you will be using in your title. However, if the keyword doesn't exactly identify your product, don't put it there, as Amazon values relevance over keywords now.
If possible, put two relevant keywords in your title. Don't try to stuff those keywords in because the A9 algorithm is programmed to spot those listings and penalize the seller.
Product Images Need to Be Eye-Catching
If the product title is the first thing customers see, the product images are second. Once a buyer clicks on your listing, the image probably has the most influence on the purchase decision. Many questions will come to mind. Does it look good? Do I like the colors? How big is it?
However, before you answer all of those questions for the customer, you have to follow Amazon's guidelines for the main image, so you don't get penalized. These requirements are:
The formats allowed are TIFF, JPEG, GIF, and PNG.
Don't put spaces or dashes in the filename.
The image should be a professional photo of your product. Drawings aren't allowed.
No additional objects should be in the image.
Make sure your photo is in focus, well-lit, and with realistic colors.
For books, DVDs, and CDs, the front cover art should fill 100% of the photo.
Other products should fill at least 85% of the frame.
You should use a pure white background.
No additional text, graphics, or inset images are allowed.
Besides those requirements for the main image, you need to make sure customers can zoom in on your product images if they want a closer look. Try to include pictures where your product is being used to make optimizing listings more effective.
Bullet Points Must Hit the Bullseye
Everyone who has bought from Amazon has come across bullet-point descriptions. They highlight a product's key features and make the description easy to read. However, creating bullet points that speak to a customer isn't as easy as just writing something. It has to be a work of art that evokes interest by telling a story. Look at the image below to see what bullet points are all about.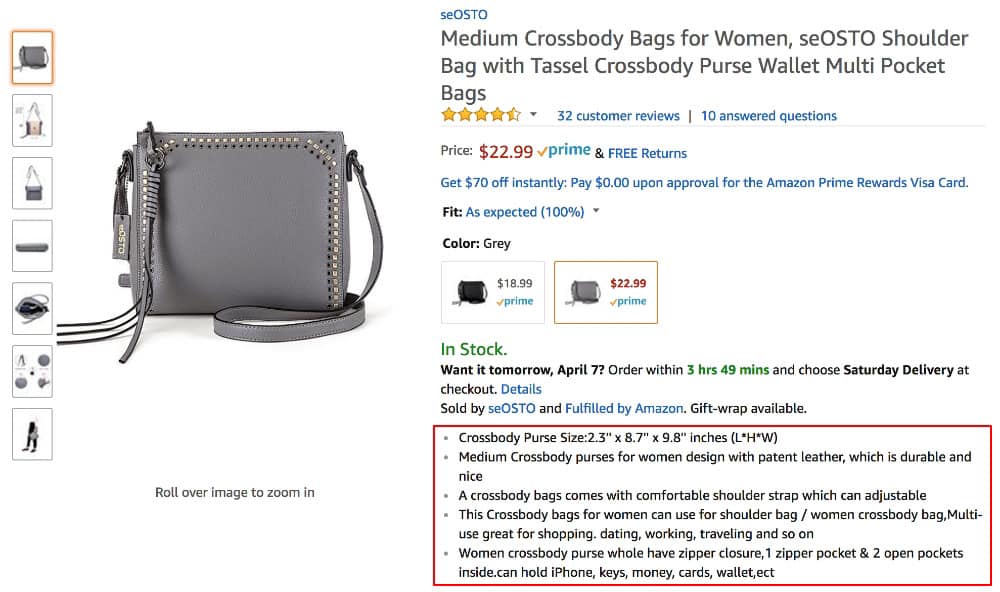 As competitive as Amazon is, compelling bullet points often transform page visits into conversions. These are especially effective when you have an Amazon product launch. Making the benefits of your product easier to read will pay off later on.
Your bullet points must hit the bullseye, but how can you do that? Here are some tips for creating effective bullet points.
You're allowed to create up to five bullet points with a 500-character limit for each one.
All of them should start with a capital letter with no punctuations at the end.
No special characters are allowed.
Avoid using all caps, as most customers consider this rude.
Sprinkle keywords throughout your bullet points, so that they can help your search rank.
Make them skimmable. Customers only devote a few seconds to learn about your product.
Most customers go to Amazon to solve a problem. Address these "pain points".
Tell the truth. Making elaborate claims that aren't true will only hurt you. Plus, Amazon has strict rules about inaccurate product claims.
Descriptions Need to Evoke Emotions
Gone were the days when customers physically went to stores and tried samples before making purchases. With the advent of eCommerce, your product description must evoke emotions for buyers to even contemplate buying.
Customers buy into the most imaginative stories and powerful fantasies when it comes to buying. Whatever your product is, you'd want to write a description that helps them improve their quality of life. Any other reason wouldn't evoke the kind of emotion that would make them buy something. Give them memories of their childhood, or identify a benefit that can make their life better.
Mistake #3: Ignoring the Benefits of External Ads
Amazon may have millions of customers who visit it daily, but ignoring the benefits of external ads may be costly for you. Many sellers already use social media and other platforms to promote their products. Besides social media, there are other ways to advertise your products, such as writing in blogs, influencer marketing, and creating promotional videos.
Get copywriting tips for effective blog writing to cater to readers. For people who crave testimonials, get an influencer to promote your product and brand. Finally, create awesome videos for people who crave something to watch.
Mistake #4: Assuming Backend Keywords Are Unimportant
This might be the biggest mistake anyone can make regarding Amazon listing optimization. The primary reason is lack of knowledge. Many people assume that using backend keywords don't affect Amazon search ranking because customers can't see them, but they do in ways you can't imagine.
Backend keywords are things that make it easier for the A9 algorithm to match and categorize your listing against what customers search on Amazon. Customers might not see them, but they're just as important, though they have zero effect on conversion.
Search Terms Can Help You
This field is used so you can add more keywords to your product listing — those that couldn't be added to the product title, bullet points, and description. The character limit has been recently lowered to 249 characters (not including spaces) by Amazon.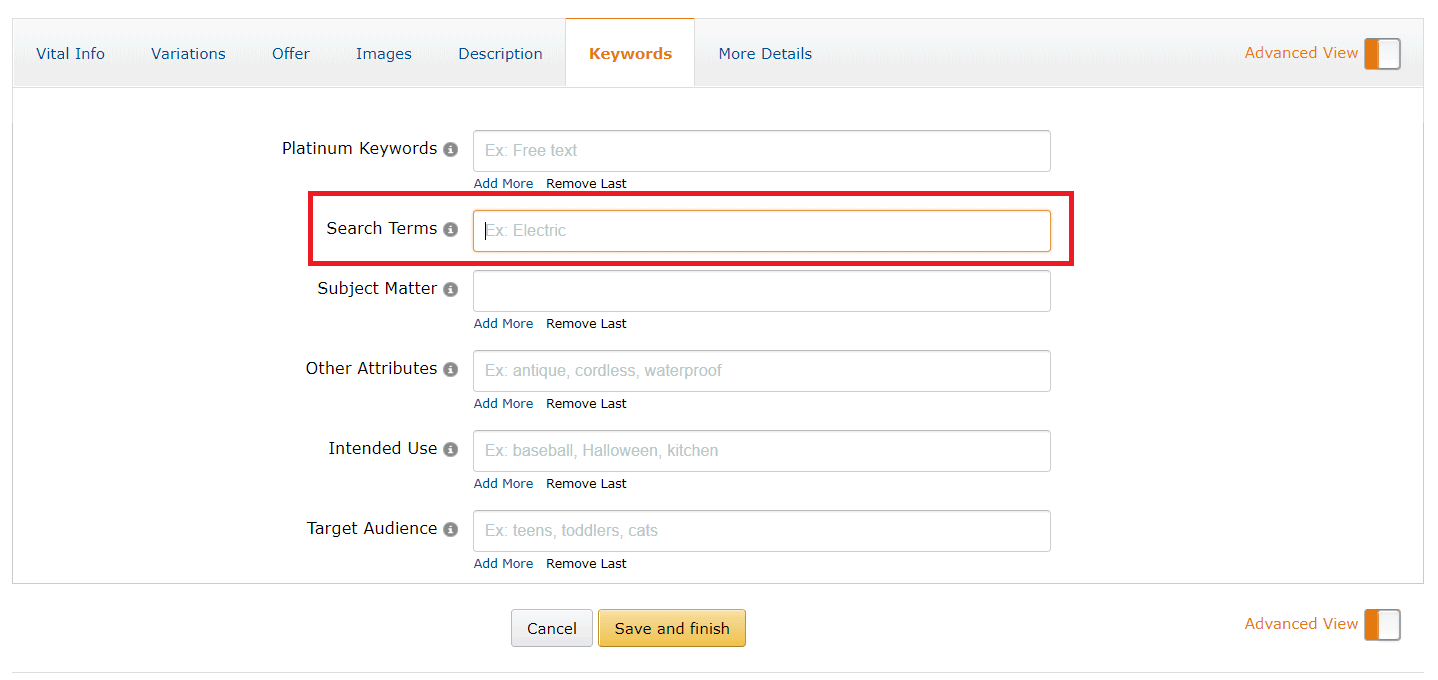 The key to effective keyword use in the Search Terms field can be summed up in several points:
Keep it within the character limit – If your search terms exceed 249 characters, you'll get a warning from Amazon telling you so. If you still try to save more than the prescribed limit, only the first 249 characters will be kept.
Use hyphens for two-word synonyms – For example, you want to cover all the synonyms of the keyword anti aging. Putting a hyphen between the two words covers all the variations, such as anti aging, anti-aging, and antiaging.
Keywords aren't case sensitive – Don't worry about using capital and small letters. A9 already recognizes both variations even if you input something odd, like "HaNd sAnItIzEr..
Just use the singular form – Using the singular form of keywords automatically adds the plural. Don't waste space putting both forms in the search terms field.
Avoid using punctuations marks – Separate keywords using spaces. It's cleaner and it saves valuable real estate since spaces aren't included in the 249-character limit.
No brand names allowed – The best place to put a brand name is in the product title. Putting them here wouldn't make much sense as customers can't see them.
Avoid using unnecessary words – Just put things that are relevant to your product. Putting promotional content or subjective claims like best, cheapest, or amazing wouldn't help your search ranking at all.
Never repeat keywords – As 249 characters isn't a lot, repeating keywords will only cause you to be less efficient in your use of the search terms field. Try to do research on what keywords are most effective to use and find a way to use as many as possible here.
Subject Matter Significantly Improves Relevance
This field is so easy to overlook. Many Amazon sellers earning seven figures swear that the effective use of the Subject Matter field helped them improve their ranking significantly. Some even argue that besides the product title, this is the best place to put your most important keywords.
Logically, the A9 algorithm uses this field to find out how to categorize your product. For example, if your product is "Vegan Protein Powder," your subject matter keywords should be weight lifting, building muscle, sports, muscle recovery, and outdoor activities.
Give It All You've Got
If you can't give Amazon listing optimization all your passion, why do it at all? Amazon prides itself on providing excellence to its customers, but sellers should also work to be excellent at what they do. After all, excellence on Amazon means more money and a more secure financial future for you.