A Master of Business Administration or MBA degree can be very beneficial for you as it enhances your knowledge and skills required for working in various sectors. An MBA degree offers a plethora of personal, as well as professional benefits.
It does not matter if you work in finance, technology, marketing, management, or manufacturing. An MBA degree has the power to open up various opportunities that give you career advancement, greater responsibility, and an increased financial reward. Apart from all these benefits, an MBA also enhances various other skills, like your leadership, teamwork, and communication skills, that play a vital role in your professional success.
If you are among the ones who wish to pursue a distance MBA or a traditional MBA, you need to understand its benefits. Below are some of the major benefits of MBA: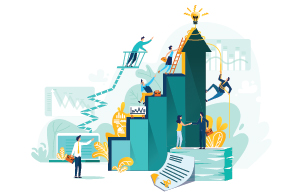 Enhanced Knowledge: The right MBA degree can give you an amplified amount of knowledge you can use to succeed in your career. Since an MBA degree is largely dependent on teaching the students about the practicalities of life, learning the essential skills can help you in your career. In the first year of MBA, all the students grasp an overview of various industries as a whole for understanding the requirements of those industries. However, in the second year, the students learn all the vital skills and knowledge about their chosen fields for getting comprehensive knowledge regarding the same.
Development of Professional Skills: Another key benefit of pursuing an MBA is that the degree helps you in improving your practical and theoretical knowledge regarding the operation of various businesses. One of the most important things that companies look for in a candidate is the "soft skills." Soft skills include skills related to leadership, communication, and teamwork. Since companies demand MBA graduates to increase business opportunities, therefore, the MBA degree pays a lot of focus on enhancing your soft skills. If you plan on starting your own business or wish for a promotion, these soft skills can help you in determining your success and failure.
Expansion of your Professional Network: An MBA degree can increase your network opportunities exponentially. Be it your colleagues or professors, all of them have their network of people who can help advance your career. Apart from that, all the MBA institutions organize various events where industry leaders are invited to interact with the students; this gives the students a great opportunity to build a network that can benefit them in the future. Apart from that, you can also build a great network in your office as the majority of the MBAs work with the top management of the company.
High Salaries: The majority of the students want to pursue an MBA degree majority because of the handsome amount of salaries that it pays to its students. Being amongst the only few degrees that offer job security, MBA also promises its students to get into the higher managerial positions and earn a high salary. Since an MBA student learns a lot of critical skills, the student gets placed in the company's top managerial positions. If you want to work for the top management of the company and earn a high salary, then an MBA degree is the best thing for you!
Opens up a plethora of Opportunities: When you find yourself confused as to which industry you want to work in, you should get an MBA degree as the degree gives a comprehensive overview of all the industries where you can work. After gathering knowledge regarding the industries, you can learn the skills required for working in a specific industry, and therefore, it can open up a plethora of opportunities for you. Apart from specific industries, it also gets very easy for you to get various options of companies under each sector in which you can become successful.
Extensive Worldview: While pursuing an MBA, you do not just get insights regarding a particular nation, but you get a thorough understanding of the world. Since you study about growing and expanding businesses in a global marketplace and various other subjects like global economics, etc., you get a comprehensive view of the business condition of the world. Furthermore, an MBA program also organizes various student exchange programs where you can travel to different countries, meet, and network with various people from those countries. All these things will give you greater exposure to the world.
Better Status in the Society: Regarded as one of the most respectable degrees, an MBA helps in giving you a better status in society. Since the course is a little tough and has greater acceptability in the world, people consider MBA graduates amongst the most-literate people. Apart from the weight of the qualification, the degree also enhances your personality and creates a positive aura around you that is respected by all the people of society.
Being amongst the most in-demand courses, an MBA degree can give a great kick start to your career. The points mentioned above highlight the significance of the degree. If you feel that you can create a great impact on a company's or your own business, then you should pursue an MBA!