The Road to Tender success in SA holds many obstacles, COID and PAYE compliance, shouldn't have to be one of them.
By Karlien Olivier, representative of Company Partners, a leader in fast-tracked administration for South African entrepreneurs.
It's well known that running business is all but a walk in the park or a day at the parade. Apart from cashflow, lead generation and strategic planning, let alone sleepless nights and the ever-present concern of 'making it', there are a few other requirements that could send any entrepreneur running for the hills. But there are a few things that new business owners often don't anticipate, like the possibility of declined contract or tender applications due to non-compliance, or exorbitant medical expenses for employees injured while on duty. That's right, certain compliance documents could either see you flourish in tender approvals or flounder in declined applications, while unwelcome medical surprizes could send your bank account six feet underground. More to this, penalties and legal proceedings could be at the end of the non-compliance tunnel for South African businesses who don't register for COID and PAYE.
In This post I will cover the main questions all new business owners ask when it comes to COID and PAYE in South Africa.
Let's start with COID – Compensation for Occupational Injuries and Diseases
Should All Companies be registered for COID?
As daunting as the word seems to be, Compensation Fund Compliance is deemed to be your ticket to financial security. Not only that – it is the law, and for a good reason. It could mean the difference between your business' success or failure, simply due to declined tenders, because of COID non-compliance. More importantly, it safeguards employees and business owners against unanticipated medical expenses.
COID Registration ensures the safeguarding of your employees' health and is better known as Workman's Compensation.
South African Government has instructed that COID registration be a legal requirement for all companies who employ one or more employees. All SA Companies need to be registered for Workman's Compensation and pay annual assessment fees to the Compensation Fund. If not – the employer is liable for all medical expenses and compensation if an employee is injured while on duty or contacts a disease in the course of their employment. As an employer these expenses could cripple a start-up company or seriously harm even a more established company.
Who does COID Protect?
The employer: COID protects business owners against civil claims from employees where temporary or permanent disablement is caused by occupational injuries and diseases, sustained or contracted by employees in the course of their employment.
The employee: Compensation for medical expenses and temporary or permanent disablement due to occupational injuries and diseases, sustained or contracted in the course of their employment.
These two main reasons should be enough to motivate your COID registration, but how can you benefit from it and why is it so important to be on the right side of COID Compliance?
How does COID compliance affect SA Tender applications?
In the last year, Compensation Fund compliance has made its way to the top of the Tender compliance priority list. A business will require COID Registration and a COID Letter of Good Standing, in order to apply for tenders. Again – the reasoning is simple. It safeguards both the business and the tender itself in that the project is not crippled by unexpected medical expenses for injuries or occupationally acquired diseases while employees are on duty.
As the after-effects of the strict lockdown in South Africa start to fade to the background and the economy starts to recover, the need for COID Registrations and a Letter of Good Standing have become more eminent – a clear indication that the South-African Business Sector now starts to bloom once again while tender opportunities open. However, it does so with caution by ensuring their employees are covered for occupationally acquired Covid 19 as the ever-present threat of the virus still looms in the background, placing all employees at risk.
What does this mean for all businesses in S.A?
Whether you're a start-up business, or a sustained giant in the industry, tenders within the Public or Private sector are not granted to any entity who is not COID Compliant and who do not have a Letter of Good Standing. This means that whether you undertake the tedious task of registering your company yourself or approaching a business ally like Company Partners to get the finer details and processes done for you, the outcome is inevitable – in order to remain compliant, you must be COID Registered and hold a valid Letter of Good Standing.
Your Letter of Good Standing confirms that your business is in good standing with the Compensation Fund and that your employees are covered.
While on the topic of Compliance – what about PAYE?
What is PAYE and what is its purpose?
PAYE, (Pay as you Earn) is the tax amount each employed citizen pays to the government for the upkeep of public services, infrastructure and accompanying commodities. All services that your government deploys is dependent on taxes. Services like public transport, public hospitals, the maintenance of roads and public clinics are all maintained by Government funds, and effectively, your tax money.
While the payment of taxes at times is somewhat annoying, it plays an integral part in sustaining the economy and the financial stability of South Africa. The services rendered by Government requires the appointment of employees, and these employees contribute toward the country's economy and facilitates a decrease in the unemployment rate. A stable unemployment rate affects many different platforms of South Africa, including the crime ratio, the Rand value and of course the over-all quality of life of the citizens of the country.
As inconsequential as your sacrificed tax money seems, every cent counts and every cent contributes towards a better future for this country.
Moving back to the legalities of PAYE.
Your PAYE payment is deducted from your salary on a monthly basis, and this serves two purposes. It safeguards the payee (you) from a lump sum being deducted once a year and it also safeguards the Government from unpaid taxes which could have disastrous effects on the economy.
Pay as you earn taxes is calculated on an income scale and is based on what you earn per month. It ranges between 18% to 45%. The higher your salary, the higher your tax percentage will be and simply, the more tax funds will be deducted from your monthly salary.
As per the South African Minister of Finance's Budget Speech on 24 February 2021, for the 2022 year of assessment (1 March 2021 – 28 February 2022), an income of below R7275,00 per month for an individual younger than 65 years, will not require a tax payment as the South African annual Taxable income threshold was adjusted to R87,300.
Here is a breakdown of the different tax brackets, based on annual income for individuals: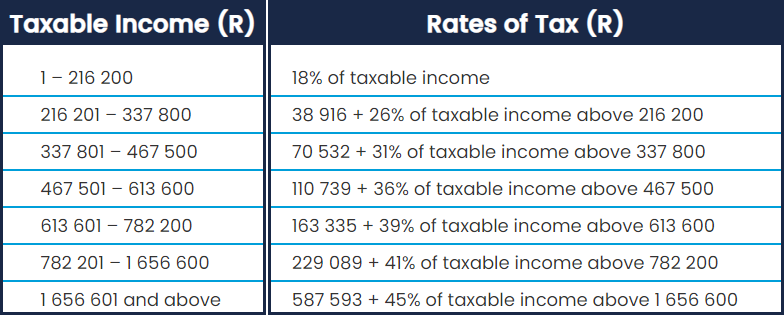 It is easy to see why a monthly payment of PAYE is a more affordable manner of paying, as opposed to an extraordinary lumpsum annually.
Your PAYE tax deduction thus plays an enormous part in the wellbeing of the country and for this reason it is compulsory.  Not paying your taxes is considered a crime and is punishable by penalties, legal procedures and possible imprisonment.
With that being said –  
It's important for all South African employers to understand the technicalities, legalities and consequences of incorrect calculation or failure to make payment.
Any company who intentionally fails to deduct PAYE tax from employees finds themselves in a position where the company director could be held personally liable for the missed payment to SARS. As SARS is currently conducting far more PAYE inspections than previous years, all employers should ensure they have their PAYE Registration in place and PAYE submission up to date, to be compliant with SARS and avoid legal action.
If an employer wilfully and without just cause fails to deduct and pay PAYE to SARS, they are subject to a fine or even imprisonment for up to 2 year upon conviction. This will also result in the director of the company being issued with a criminal record.
Thus, PAYE Registration not only safeguards your current business but also future endeavors you, as a director, may want to pursue.
Let's Recap
There are four reasons your business must be COID and PAYE registered. All four reasons boil down to protecting your company, compliance with the law, and more tender opportunities.
COID & PAYE: Protect, Comply and Get Opportunities.
COID protects the employer as it safeguards the company against unplanned medical expenses and this includes scenarios where employees are handicapped and can no longer work – in these instances, the employer would have been held liable for future monthly salaries, but with Workman's Compensation, the bill is covered – protecting the company and its productivity levels, while also safeguarding the employee against unfair medical expenses.
The South-African economy is protected by COID. While small companies may think that their contribution is insignificant, a group of small companies who are financially ruined, impact the economy magnificently. The largest contributor to the South-African Economy is in fact, small businesses, and for this reason, each employee's welfare is of great importance.
Governmental Tenders can boost your company's growth extensively, but without COID Registration and a Letter of Good Standing, your application for a tender will not be reviewed or even considered. This has seen many small businesses flounder as tenders generally generate a steady, yet strong income sustaining the business for a lengthy period of time. Applying for tenders, particularly in the construction industry can be of significant importance to any small business owner, but without the required documentation and registrations, these tender applications are out of the question.
PAYE protects you, your company and future companies to follow. No one wants to be approached by the South African Revenue Service (unless the offer is a reimbursement) on negative ground. The intentional non-compliance of PAYE tax could render your company bankrupt and your personal pockets empty, not to mention legal proceedings that may follow.
Holding a firm foot on the ground of Compliance in terms of COID and PAYE, is the key to ensuring your business's success and future growth.
Yes, you do need to have a plan, a strategy a product or a service, but keeping the hard work you have done worthwhile and safe, ultimately boils down to whether you comply to the legal obligations set out by Government, or not.
To ensure you are following the correct procedures, have the correct documentation and meet the registration requirements, it would be best to approach someone who specialises in the field of compliance in these fields. The correct calculation of PAYE could mean the difference between a compliant small business and a non-compliant small business. Being COID registered and holding a Letter of Good Standing could mean the difference between a successful business, or one that finds itself on the wrong side of the law, not to mention on the wrong side of medical accounts and CCMA complaints.
In South-Africa, business is tough, as it is across the globe but keeping your assets, your employees, and your business safe, could be as easy as one call to a company ally, like Company Partners, to ensure that you have the information needed, the helping hands and the knowledge to move yourself to the compliant side of South-African Law.