Five years have passed since the initial release of React Native, and it remains the top choice amongst developers when it comes to mobile application development.
There are a few concrete reasons why developers prefer React Native, but the top-most is the result of its nature. Some say that the fundamental reason why Facebook envisioned React Native was to overcome internal shortcomings, while others have a different theory.
But the bottom line remains that React Native facilities cross-platform development, thereby allowing quicker product turn-around.
In simple terms, React Native allows developers to write an application in Javascript, then has its compiler convert the codes into native codes that are best suited for both iOS and Android platforms.
In fact, developers need not use HTML to build React Native applications – it uses a combination of React and its own markup language library to complete the chore. 
Now, there are a plethora of reasons why you must choose React Native. And those reasons might be compelling enough to take you down the "Hire A React Native Developer" path. But the idea here is to look at something that will not only help you make a choice but also help you be more involved in the process.
Many blogs over the internet will tell you all the right reasons why React Native is perhaps the best platform when it comes to cross-platform development – and it is!
But just as a coin has two sides, React Native has a major disadvantage when it comes to speed.
React Native's Issue With Speed
To understand its issue with speed, we must first go to its root. Fundamentally, React Native uses three sections to run its framework:
a) Javascript Thread: Basically, Javascript VM runs the Javascript code that powers animation and other UI components.
b) Native Thread: Native codes are written to run Java/Kotlin for Android and Swift/Objective C for iOS.
c) The Reach Native Bridge: As the name suggests, the React Native bridge acts as a communication point between the Native and Javascript thread using a custom protocol.

Image Source: React Native Guide
From here, we come back to speed. The problem of speed generally occurs when you unnecessarily pass multiple components over the bridge from one thread to another. Because each thread is super fast, it is advised to keep the transfers over the bridge to a minimum.
Note: As I said, this is a general reason. There may be other reasons why your application is lagging.
Now that we have discussed the general cause of the problem, let's also look at the general solution that you can apply.
Using Slowlog
React Native Slowlog is usually the go-to solution for many developers to enhance view rendering performance. It has a futuristic usage since it allows you to create a custom threshold to build a baseline for the future performance of your application.
To avail of this, all you have to do is add this single-line code to your views constructor.

In case your problem persists, then here are a few more things you can do to eliminate any performance issue.
Common Issues And Their solutions To Enhance The Speed Of Your React Native Application
1) <FLATLIST>, <SECTIONLIST>, & <VIRTUALIZEDLIST> V/S <LISTVIEW> & <SCROLLVIEW>
Consider you're scrolling through an application that lets you read books online. You're looking for a book in the sci-fi genre, and as soon as you add that filter, you're given some 500+ options.
As you keep scrolling and go to the 4th or 5th page of the library, the application begins lagging. Annoyed with slow speed, you leave the application. And this ends up costing a valuable customer to the owner.
Essentially, the application uses Native and Javascript to run, and when it passes the information over and over again, the application lags.
One significant way to solve this issue is by using FlatList, Vistualise List, or SectionList instead of ListView on ScrollView.

Image Source: MerixStudio
The main disadvantage of using ScrollView is that it renders all the data at once, and when you're dealing with large datasets, it can be a little challenging.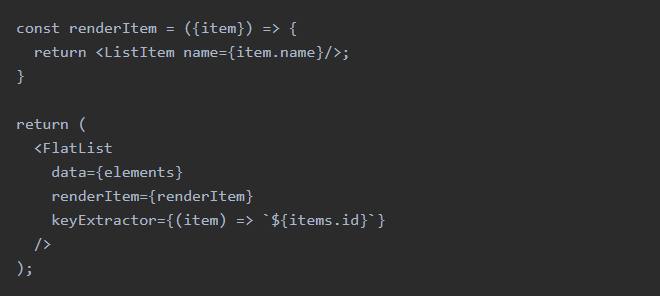 Image source: MerixStudio
FlatList, on the other hand, ensures that it uses only a constant amount of memory to load even large datasets. And this doesn't let the data-loading affect the performance of your application.
2) Optimize Image Size
Large images often suppress the speed of an application and slow them down. Since React Native plays for both teams, all the images must be optimized to avoid any speed-lags later.
Here are three things you can do:
Use smaller sized images than larger ones. Small images load faster and better than large images.

Use PNG format instead of JPG.

WebP format goes a long way.
In addition to these three, you must also cache the images locally to help them load faster.
3) Avoid Unnecessary Rendering
Each time that the states or properties of any component in an application change, React Native re-renders the entire virtual DOM subtree.
Even when you're implementing the diff state, lifecycle, and props, you must be careful not to mess with the thread's FPS.
Here are a few ways to rectify the error:
1) ShouldComponentUpdate
Before you begin to render(), you carry out this method, and by default, the result always comes back as true, allowing you to render components easily. You can tweak it to return false to prevent it from rendering or re-rendering components. 

Image Source: Software Brothers
2) REACT.PURECOMPONENT
To avoid having to write the shouldComponentUpdate () method yourself, you can use the React.PureComponent class for each component in which, with the same properties and states, the render method gives the same result.
Unlike the React.Component class, it offers by default the method shouldComponentUpdate (), which performs a shallow comparison of the properties and states of the component. Note that a shallow comparison of a deeply nested object will only check the reference, not the values of the object.
The following entries work in exactly the same way: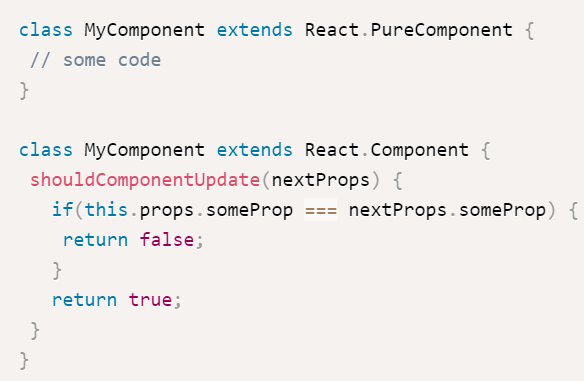 Image Source: Software Brothers
Final Takeaway
As a final takeaway, there may be many more reasons why React Native might function well in speed, but the bottom line is that you must be vigilant about the basics as you develop your app. In case you're stuck somewhere, and the solution is not enlisted here, feel free to get in touch with our team; you can also hire a React Native developer that'll quickly help you solve your problem.