Gone are the days when having a mobile app was an option. It is no longer the case rather it's the need of the hour – to stay ahead of the competition, to work smarter, to reach a wider audience, to target users more often than usual.
There are around 4.66 billion Internet users in the world now, according to Datareportal – of which, most of the users (about 91%) use mobile devices to connect to the Internet at least some of the time.
So, what do they do? They use mobile apps.
In today's modern world of tech, it's hard to find an industry with zero apps. We have apps for everything, from buying books to booking tickets, from searching for domestic help to booking an appointment with a doctor, from ordering a pizza to live temple darshan. The potential use cases are increasing every day.
Businesses, big or small, are looking for companies offering mobile app development services. They want to go mobile; or rather you can say they need to take the mobile route. Whether it's an extension of a business or building from scratch, mobile app development is the way forward.
Today, in the world the percentage of unique mobile users is nearly 67% of the entire population, states a report by Datareportal.
What this implies is that boundaries are limitless and growth potential is immense. All that's required is the right plan targeted at the right audience at the right time.
The mobile app development process comprises several phases, tasks, and milestones. The best way to approach it is by taking it step-by-step or phase-by-phase.
Whether you attempt to build an app like Uber/Swiggy or your business app from scratch, the following procedure would help you start on the right note. It doesn't matter if you have a tech background or not, the below-mentioned aspects will add value.
How to Prepare for Building Your Mobile App?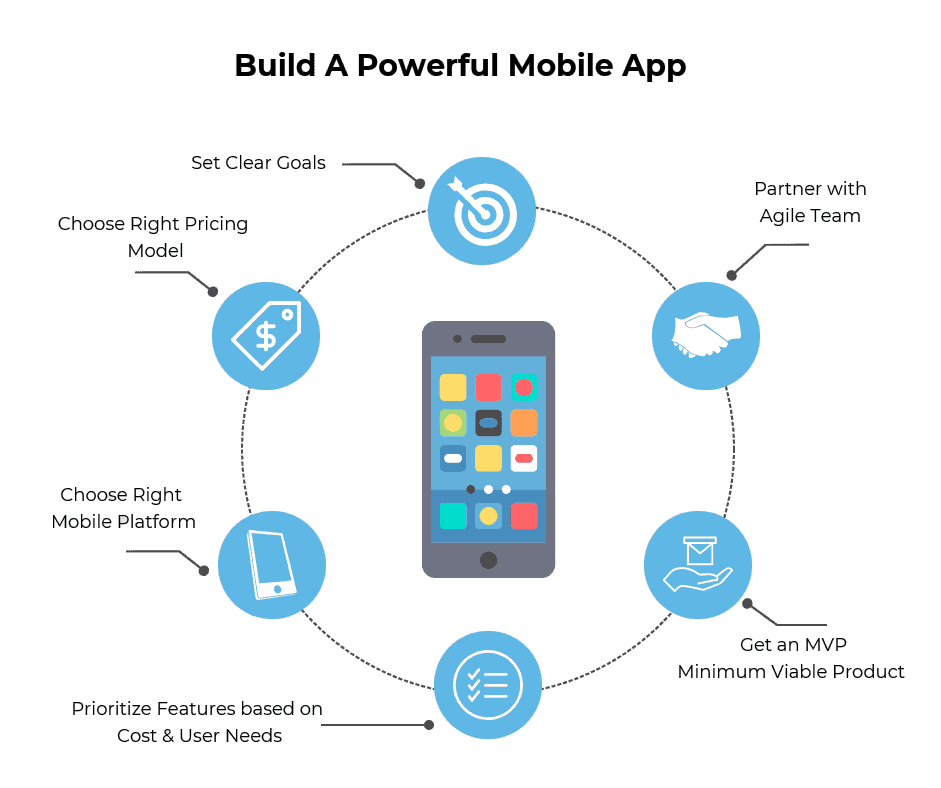 As discussed above, we divide the mobile app development process into three phases,
Pre-launch
Development and launch
Post-launch
Discussing them in brief, the first phase comprises of research, competitor analysis, prototyping, etc. The next phase is where you connect with a potent mobile app development company to build the app that eventually extends to the launch. The last phase is where your marketing strategies come into the picture along with the end-user feedback that helps you improve your app.
Pre-launch Mobile App Development Phase
In this phase, you focus on the following:
Clearly defined and well-drafted goals are crucial for an app to be successful and recognized. Have a clear frame of mind regarding what do you want to achieve and for whom?
What are the primary goals of the app? What problem do you aim to solve?
There can be more questions like these that'll help you define app goals.
Goals not only provide a way to the mobile app development process but also help in establishing milestones, without which you can easily go off track.
It is not about deciding on some random goals, but only the ones that can be measured. Have clear performance indicators to measure and monitor progress.
There can be endless goals you might want to accomplish throughout the app development journey. Goals can be user-oriented as well as business-centric. The important part is that you have them in mind right from the start and work towards them with purpose and diligence.
Your app solves the problem of your target audience. If it's an extension of the existing concept then you are good to start, else you need to validate your app's concept to ensure you don't waste your time, effort and money in building something that's not desirable.
You can validate your app's concept by running a survey online/offline. Social media is a great place to quickly ask questions in return for an e-commerce coupon or something enticing. You can share your idea with your peers to know their response. You can even launch a prototype of your app with elementary features to gather user feedback.
The goal here is to make sure that your offering is good enough for users to download your app and come back to it later.
Define the target audience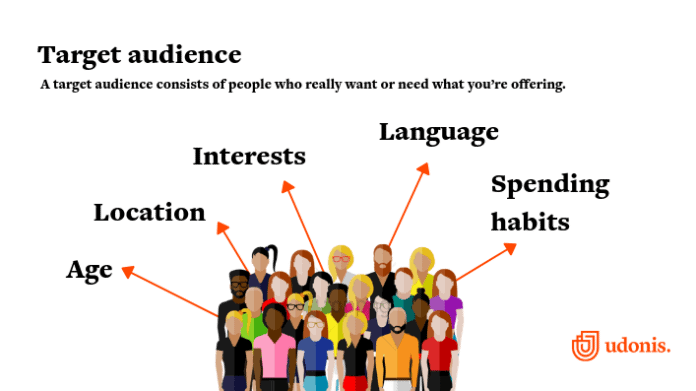 Source: udonis
Defining who to target at an early stage of mobile app development not only helps you market better but also inform you about design decisions. Based on the needs of customers you can modify and add/subtract elements that will help the app perform better later on.
The more you know about your audience, the better your app can perform. Research as much as you can to understand their behavior, buying habits or patterns, needs, problems, technological preferences, etc.
Consider answering the following questions to define your audience.
What is the problem your app solves?
Who is affected by this problem?
How do they currently solve this problem?
Is there a gap in their expectations and market offerings?
How happy are they while using the existing apps?
Which platforms do they prefer?
Conduct competitor & market research
A comprehensive analysis of the market is required before you connect with a capable mobile app development company to discuss requirements.
Once you have an app idea in mind, conduct surveys to know if there is a gap between customer demands and solutions available in the market. Market research not only helps you understand the needs of the users but also helps you identify your competition?
Study your competitors closely. Highlight aspects that they lack. Focus on offering something unique and more valuable than your competition. This will give the end-users a reason to choose you over other players in the market.
Brainstorming is highly recommended as it brings forward different perspectives to the table that could help in redefining and refining the app. Group together to get input from members of different teams like marketing, development, design, customer support, strategy, and others.
Encourage your team members to put out thoughts honestly. Questions like does this app idea fills the market gap, is it a worthy investment, would it benefit the users, is the concept feasible, etc, can help you get underway the brainstorming session.
Next is the presentation of the concept. This can be done with the help of a flowchart explaining the features, functionalities, and workflow of the app idea. Try to be concise and clear while creating a flowchart. This will help you visualize your app idea on paper which will also be beneficial for the development team.
Aside from features and functionalities, the flowchart should have phases with deadlines, the team required, and budget. You can also sketch out different screens of the app for better understanding.
The mobile app development process can be endless at times. To take your app a notch higher you might want to add new features and functionalities, the list of which can go longer than your estimation. However, considering the usability and user-friendliness you need to limit yourself at some stage.
More features translate to more expense, more development time, and more effort. To keep things rolling in a structured manner, you need to allocate a budget either for the entire app development project or as per the phases.
Ponder on marketing strategy
You need to figure out your marketing plan as early as possible. Mobile app development shouldn't be a problem as there are companies offering high-class application development services across the globe.
The important part here is the marketing game. What's your plan to target your defined audience? How much budget have you allocated for marketing? How much money do you intend to invest in online marketing? Which channels do you intend to target?
Answer to such questions can be tricky. You should start figuring out the answers prior to the start of development. Besides SEO (search engine optimization) and paid advertising, you could make use of ASO (app store optimization) techniques for organic growth.
Remember, marketing is an ongoing process, though your strategies might change according to market and customer demands.
App Development and Launch Phase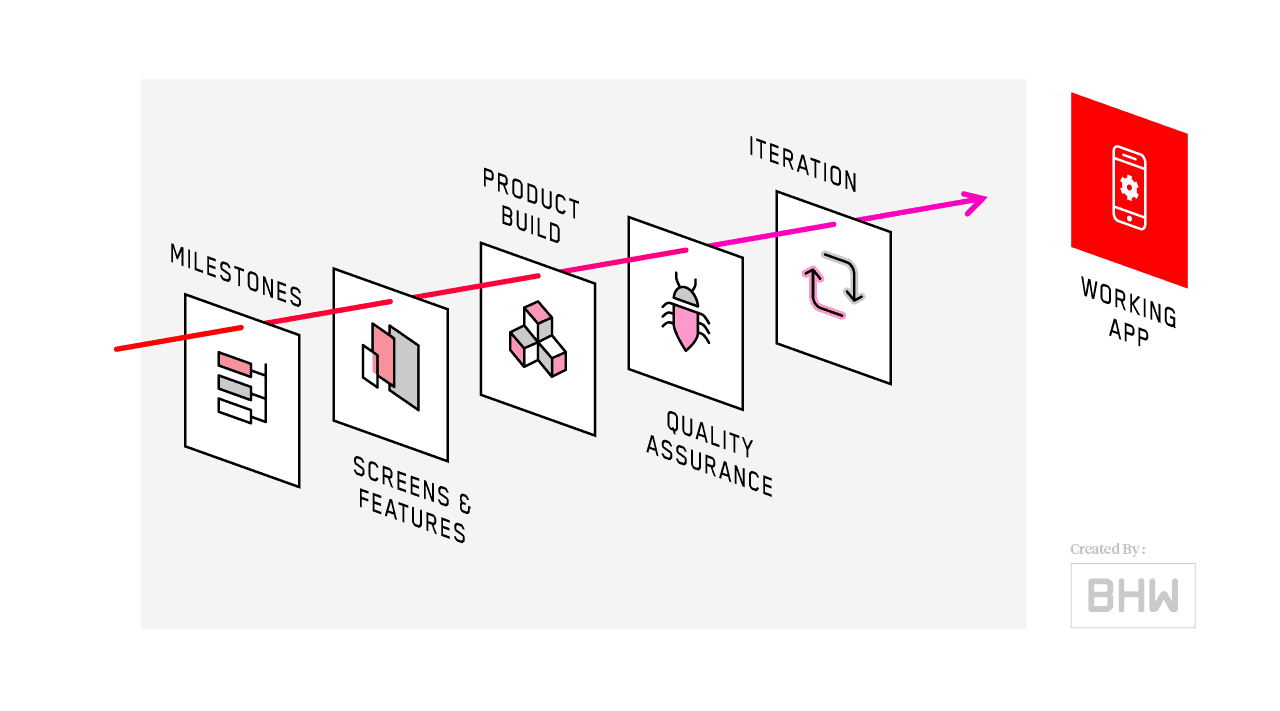 Source: BHW
Following are the aspects you should be focusing on in this phase of mobile app development.
Create wireframes to illustrate the core components, flow, and structure of the app. You can use a digital wireframing tool to do so. Wireframing sketches on paper would also do. It helps in visualizing the app better. Your team remains on the same page and know how exactly the app functions.
Based on the wireframes, developers assess the to-be-created app from the tech perspective. This process gives a better understanding of the inner working of the app. The assessment reveals the best possible way to achieve development goals by saving all three, time, effort, and money. Hence it becomes an essential part of the mobile app development process.
Set smaller milestones with the specified deadline, which can vary from a few hours to days to a few weeks depending on the complexity of the task. Short milestones are easier to track and accomplish as compared to one huge project.
Minimum Viable Product (MVP)
Into a few weeks of development, you might want to add a new feature(s), other than the ones decided initially. These distractions can not only add time and money to the project but also distract you from the set goals. Hence it is recommended to build an MVP with the most essential features and basic design. You can release your app as an MVP accessible to a specific set of audience for gathering feedback. This will help you identify improvement areas and allow you to refine the app even before its final deployment.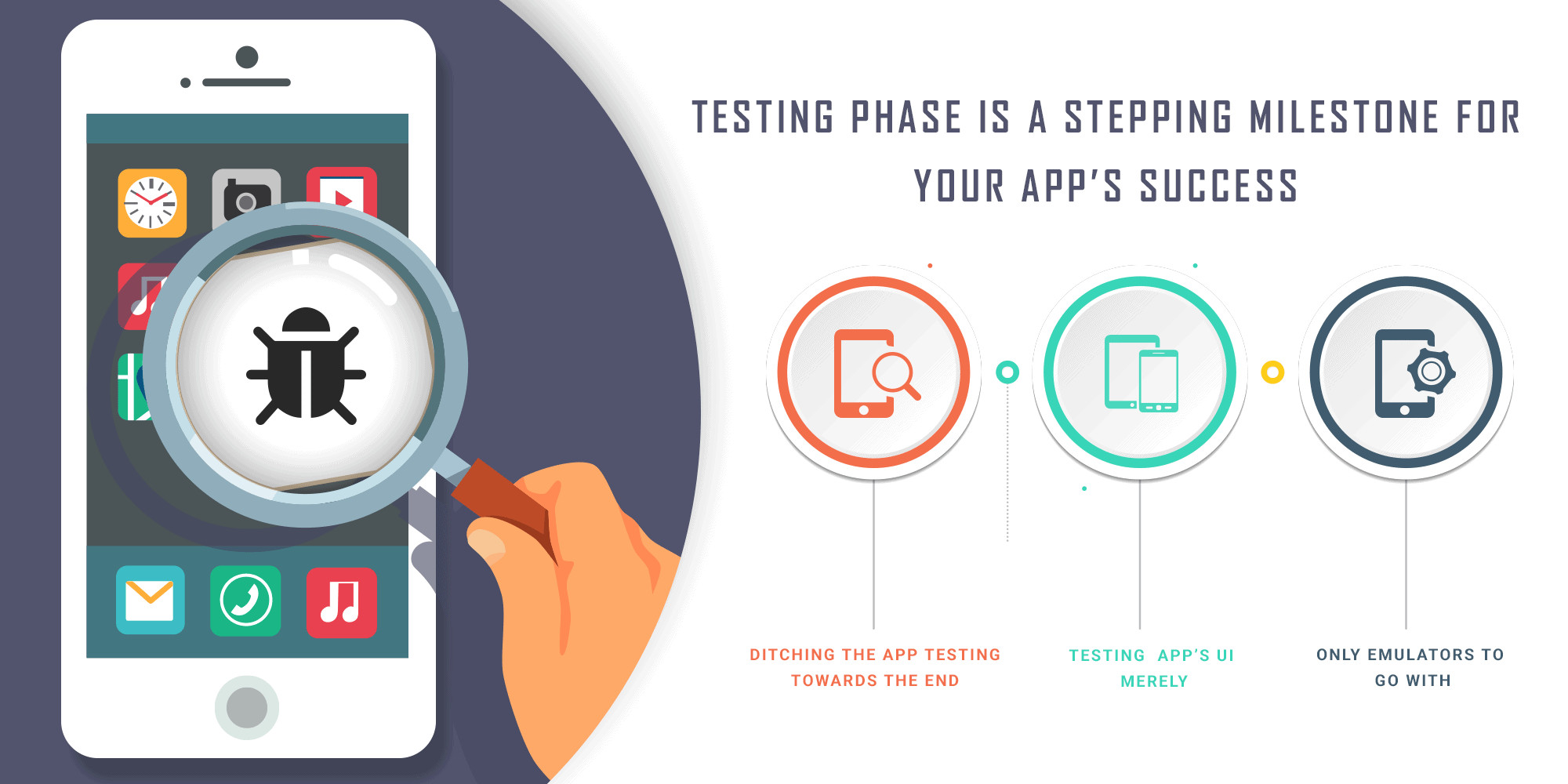 Once you have a working MVP, it is time to test. You want to make sure that everything works as intended and there are zero bugs. Though an app can never be free of bugs as there can be different ways of using an app and users can always find ways to locate them, it is always better to eliminate the major chunk before you deploy the app on the app store.
About 52% of users abandon the app due to a bad user experience and they are less likely to engage with the same app in the future.
Make sure your testing guy puts in the quality effort to reduce bugs because you don't want your customers to discover them when the app is launched.
The last stage is to go live. The primary focus here should be on server response and uptime. Make sure you have adequate servers in place and the app runs perfectly fine for the end-users. The last thing you want is for the servers to stop responding. Partnering with a top-notch mobile app development company can put an end to such worries. Additionally, they'd know about the app store guidelines for submission to be accepted. An experienced team can always be by your side to rescue you from unintended situations.
Post-launch Mobile App Development Phase
The deployment of the app is not the ultimate target. There's a lot more to preparing and building a mobile application. Once it's launched, you need to track performance indicators, market more aggressively, gather feedback, and keep improving.
The following can be referred to as performance indicators for your app.
Number of downloads
App speed
Server response
Abandonment rate
Time spent on the app
On which section of the app does the user spend the most time
App exit rate
And plenty more.
Ensure to get feedback from your users. It helps you refine your app and provide a better version of it to your app's end-users. Don't be shy to ask for their feedback – and yes it is not annoying to ask about experience.
Based on the feedback, get your app development team to work accordingly. No app is made perfect in the first attempt. It is obvious to get a negative response. However, failure happens when improvement halts.
Wrapping up
An app does not become successful overnight; it goes through several refinement phases and continuous support & maintenance cycles. You need to take care of your app as you do for your year-old car or home or body.
To pass an exam you need preparation and proper guidance. Similarly, to build a groundbreaking app you need professional assistance and experienced hands. Connect with a renowned mobile app development company for transforming your idea into a functional app.
Hope this article helps you prepare well to build your business app. You can leave your thoughts in the comments below.