When it comes to mobile app design, so much effort is currently being put in by developers to ensure that individuals and businesses alike get the most from their mobile apps just as the year flips.
And for the year 2020, a lot of mobile app designs that are really user-friendly are beginning to surface. This goes a long way to prove that when it comes to mobile app design, developers are so out to wow users with amazing user interface (UI) and user experience in their mobile app designs.
In light of this, trends in mobile app design are gradually becoming an avenue through which businesses drive more traffic due to the ability of their mobile apps to provide the much anticipated UX. So, if you notice that your mobile app isn't doing what you expect it to do for your business, it then means that your mobile app design isn't trendy. And what this means is that your mobile app is lacking in some important features which need urgent attention for new and user-friendly features.
With much ado, let's go straight to those features and designs which seem to be trending when it comes to mobile app design. A candid advise – you do have to pay rapt attention to these trends if truly you want to design a mobile that will be relevant in the year 2020.
Here Are The Latest and Exciting Trends In Mobile App Design In 2020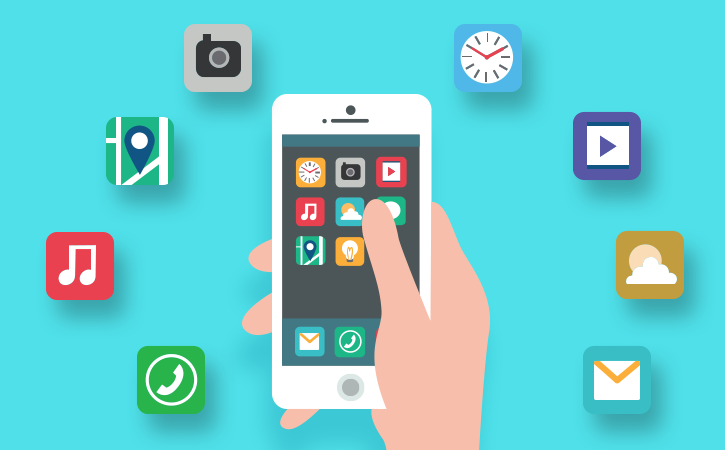 Better User Experience (UX)
User experience in the year 2020 is a hot topic that is seamlessly becoming one of the most significant criteria in mobile app design.  With this, it then follows that when designing a mobile app that will find relevance in the year 2020, it is important to work with app developers who know their onions when it comes to giving this front side of a mobile app the best that it requires. Once this is the case, fantastic user experience will then become feedback from users due to the smooth and hitch-free experience when using an app.
Designing For Bigger Screens
We can't run away from the fact that we are in a dispensation where over-sized smartphones and tablets, which come with bigger screens are the order of the day. This simply points to the fact that users want more visual content on their mobile devices. However, designing mobile apps with larger screen resolution comes with its sets of challenges (for instance, in iPhone 6 Plus, where a user thumb may hardly stretch to cover the entire area of the screen). But that notwithstanding, designing mobile apps with a bigger screen in mind is a trend that should be followed.
Keeping It Simple with a Simplified User Interface
There is a high inclination by mobile app designers to create mobile apps with a simplified user interface. This becomes important since the user interface has to be clear and simple for better functionality. As a matter of fact, simplicity is a common feature of all graphic designs, even in mobile app design.
Faster App Performance
The need to create a faster mobile app is increasing as the years flip by. Going by this fact, this can be one of the most important areas of focus in mobile app design for the year 2020. Improving the performance of mobile apps then becomes very important since this is a core area that determines fast and appreciable user experience.
Remember, users barely wait for a mobile app to process any information they input. Once it looks as though an app is taking too much time to open to deliver an expected function, they simply close it to try another app that may be faster.
Swiping Is The Main Gesture
Another mobile app design trend to watch out for in 2020 is the further improvement in the swipe function. Since previous versions of mobile apps seemed to have smaller buttons for tapping, newer versions are now adopting the swipe feature, which is seen to be more responsive and seamless to use.
More Navigational Options
Another trend in the design of mobile apps in 2020 is the creative navigational features and options which are made to enhance the navigation of users within an app. You can tell that any app with a clear navigation system is usually an app with more chances of succeeding since it will easily give users the needed ease to navigate around them.
Some salient navigation features in mobile design trend include:
Parallax scrolling for intuitive navigation
Navigation buttons that disappear after a prolonged period of inactivity
Infinite scrolling of mobile apps
Modular scrolling through rows of information.
The Overlapping Effect
Another latest trend in mobile app design is the development of apps with a good UI/UX, which are also accompanied by some overlapping effects. Such effects involve the overlapping of different design elements such as images, colors in a single screen, and text design. With this, an app receives a well-organized interface, which creates some sort of illusion with a great step-up in the user experience. 
Dynamic and Functional Animation
For some years, animations in mobile app design are gradually coming into the forefront, and it is even expected to gain more momentum in the coming year 2020. Creating an app that has a dynamic and functional animation with some eye-catching elements are useful in drawing the attention of users to an app. So, if you once knew animation to be common among games, it has now become a welcomed part of mobile app design. With this, developers can use such animation effects to:
Confirm a user's action
Zoom in and out contents
Illuminate navigation
Enhance user experience
And also make the app experience dynamic.
Scalable Font/Typography
The font and typography design happens to be one of the trending creativity in apps design. Although sometimes, this feature was always relegated to the backseat as though they aren't important, but now mobile apps developers have risen up to see that this element of mobile app design is very important to user experience. A typical example of the place of scalable typography was seen when Apply launched Helvetica Neue font, which came together with iOS 7. Following these, Apple went further to launch San Francisco font, which was uniquely designed for its Apple Watch apps. Apart from these fonts being scalable, they also enhance the appearance of a mobile app as well as the overall design of the app.
Conclusion
Designs in mobile app development are increasingly gaining more features and designs. These features and designs are most importantly aimed at increasing the user interface of the apps as well as enhancing user experience with such apps.
Whether or not a mobile app is one that designed for the top-ranking mobile devices and operating systems, or for those with a minimal interface, design and features, building apps that are in line with what the current trends require is the only to ensure that your app gets the attention of users.