Today, many businesses know the importance of SEO for your website. Using the right tools and strategies will rank your website on Search Engines such as Google, Bing, Yahoo, and more. For SEO Specialists, WordPress is highly SEO Friendly with proper well-coded configuration. But the real SEO benefits come with the WordPress plugins that can improve your SEO efforts and strategy.
Yoast SEO has been the most used plugin when optimizing WordPress-based websites. Reasonably, WordPress SEO by Yoast is the only plugin available to deliver an all-in-one comprehensive SEO Optimization tool at the time.
Recently, Rank Math was introduced as a WordPress SEO plugin. To kick things off, we'll quickly introduce Yoast SEO and Rank Math to set the stage for our more hands-on comparison. We'll discuss what the plugin does, functionality, ease of use, etc.
Rank Math vs. Yoast SEO
What is Yoast SEO?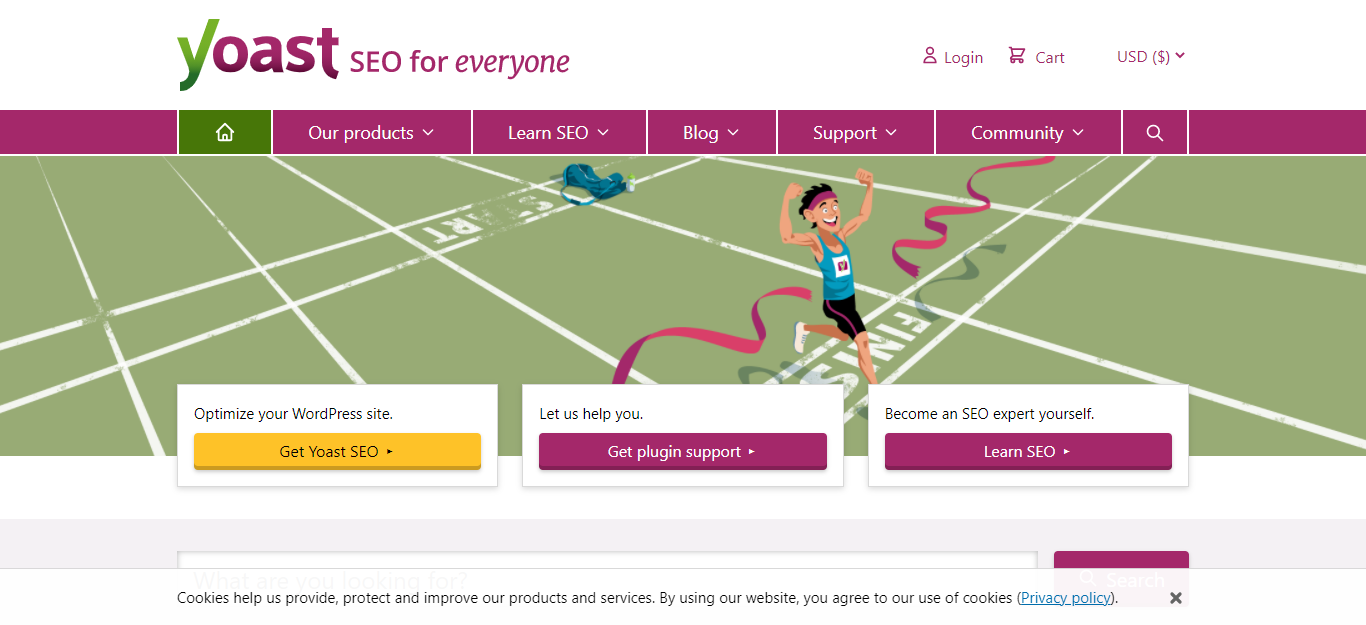 Yoast SEO is one of the most popular and valuable SEO plugins available in WordPress. It has been a popular plugin since its introduction in 2010. The plugin helps in improving website rankings on search engines by optimizing your website's content and keywords. Yoast SEO is automated, but some areas need planning and input. It also provides suggestions on improving your content and any issues that need to be corrected.
This plugin is easy to install. Simply go to the plugin menu in your Dashboard and install it on your chosen site. Once installed, it will appear on each page you created once installed to your WordPress site.
Yoast SEO is free to use with excellent features, but it also offers multiple premium add-ons to extend or acquire the core features.
Keyword optimization

Google Preview

Readability Checker

Complete control of WordPress Breadcrumbs

Duplicate Content Checker

Technical Configuration Optimizer

Automatic Update
Yoast SEO Premium Version offers more features such as:
Up to 5 Keyword Optimization

Preview of your page also in Facebook and Twitter

Internal Linking Suggestions

Content Insights

Redirect Managers

Focus Keyword Export

24/7 Support Team

Ad-Free
What is RankMath?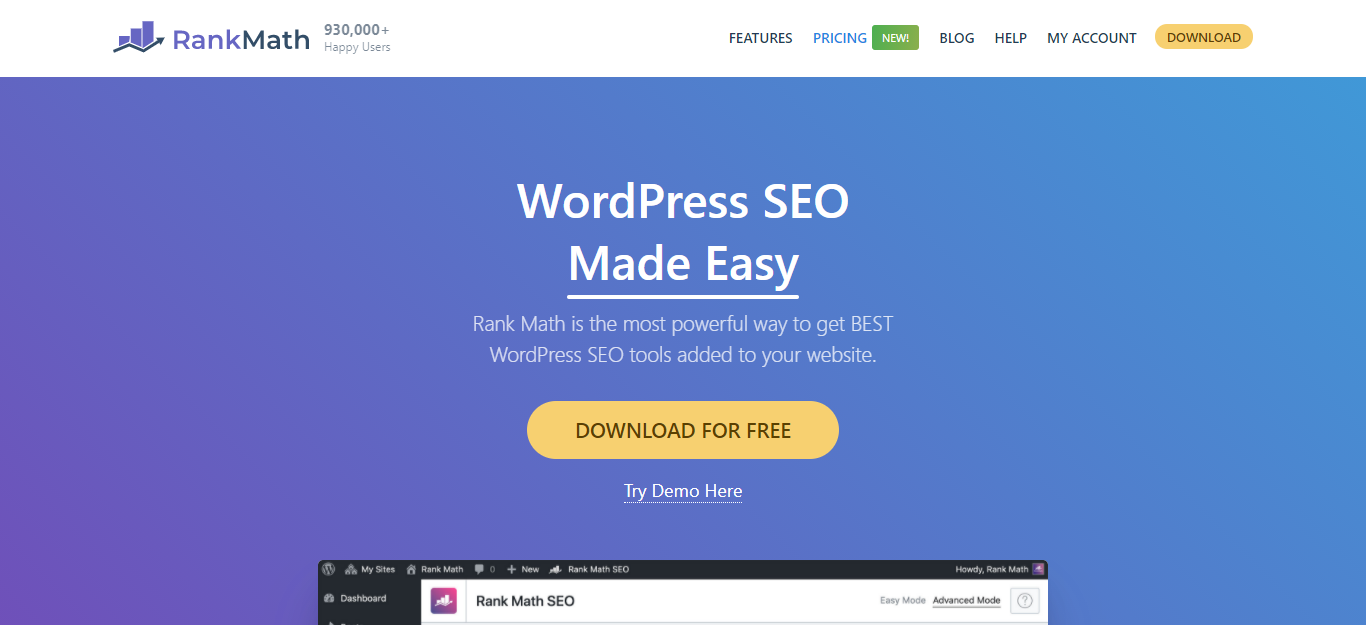 Rank Math is a newly introduced SEO WordPress Plugin that optimizes content with a build-in suggestion based on widely accepted best practices. The plugin was created by MyThemeShop, an experience development Team, and was introduced in 2018. The plugin is packed with SEO suite-style features that ensure your website is optimized for search engines. Like Yoast SEO, Rank Math's free version already offers more features than other plugins do, including:
Meta descriptions and titles Editor

Social media descriptions suggestions

Focus keyword analysis

XML sitemap

Structured schema/data

Knowledge graph and local SEO

Internal link suggestions

404 monitoring

Google Analytics Integration

Basic WooCommerce SEO
The Premium Version features more options like:
Keyword rank tracking

Integrated with Google Trends.

Create a Google Video SEO sitemap.

Watermark social media images automatically.

20 choices of predefined schema

Earning history viewer from Google AdSense

Advanced WooCommerce SEO features
Yoast SEO vs Rank Math: Key Features Comparison
1. Keyword optimization
Keyword Optimization is one of the fundamental SEO principles that can help increase traffic from search engines to your website. Incorporating the proper keyword focus helps in improving your website traffic and understanding your user's behavior. (Please right benefits of using the appropriate keyword focus)
Yoast SEO allows you to set only one (1) keyword for their free version. For Yoast SEO Premium, however, it will enable you to set up to five (5) focus keywords. It also comes with SEO analysis that allows you to fill in a keyword and check the keyword density, keyword distribution, etc.
On the other hand, Rank Math lets you set up five (5) keywords per post that can attract more traffic than optimizing for one (1) focus keyword both for the free and Pro version. Aside from that, Rank Math also offers keyword AutoSuggest to help you discover more keywords from Google. Rank Math Pro is also integrated with Google Trends Tool to help you check the search trends for keywords.
2. Content Analysis
Yoast SEO Free version comes with readability analysis that helps you write better articles or blog posts, further boosting your SEO optimization. It provides real-time content analysis and suggestions for improvements with an option to highlight parts that need revision. Take note that Yoast makes suggestions based on the Flesch Reading Score.
Similarly, Rank Math provides content analysts that list suggestions for both on-page SEO and other factors such as title and content readability. The readability tells you whether your paragraphs are understandable and if it has any errors. You can also toggle between various keywords by adding them to the list, and the analysis will change different focus key work into your specific focus keyword.
3. Schema
Rank Math highly suggests using Schema in contents. It comes with 20 different types of Schema that you can use in content like reviews, FAQs, videos, recipes, courses, and more. Moreover, Rank Math adds a schema when you use a video in your content, reducing your efforts in optimizing your content.
To add Schema using Rank Math, edit a page and scroll down to the Rank Math Section. Once you see the Schema section, you can choose between the predefined template or create your schema mark-up. Select your schema data and fill in the required data—no need to add schema plugins.
In general, adding schema data in Yoast SEO requires web admins to edit the code of web pages. For most, it requires coding skills or help from a developer. Recently, Yoast added many structured data features that let you choose content types for your content. You can add Schema Mark-up via the Yoast SEO structured data content blocks for the block editor.
4. Ease of use
Both Yoast SEO and Rank Math have a straightforward platform. They are both easy to install and have a knowledge-based database available for steps and tutorials. They provide interactive wizards that guide you through every phase.
The Yoast SEO dashboard is straightforward to navigate, and all suggestions are easy to follow. Rank Math, similarly, offers a well-organized and straightforward platform that is easy to manage. However, it comes with two modes, easy and advanced. The easy mode is excellent for beginners who want to let Rank Math do most SEO practices.
The advanced mode is perfect for professionals and seasoned SEO specialists who want complete control over their sites and customize their settings. It allows users to control every feature of their webpage, such as 404 Monitor, ACF, Meta Description, etc.
5. Speed
Having a lightweight plugin is very important when using WordPress as it affects the page response rate and interactive scale. Rank Math is 3x smaller line codes compared to Yoast SEO. Smaller line codes can benefit your website from fewer PHP requests, making it faster.
In addition, the ads are very intrusive when using Yoast SEO-free version. Yoast SEO can bombard your dashboard with advertisements. Users must install a separate Hide SEO Bloat plugin to remove the Yoast ads.
6. Pricing
Yoast SEO and Rank Math are both available at WordPress.org for free. They also offer premium versions with additional features.
The premium package of Yoast SEO can only be used on one single site, and it costs $89. Purchasing multi-site licenses can get you a discount of up to 5% per additional site and more once you purchase more than ten sites. Yoast SEO also offers add-ons such as Video SEO, Local SEO, WooCommerce SEO, and News SEO for $69 for each site plugin.
Rank Math has two premium packages: Pro ($59) and Business ($199). The difference between these packages is that the Pro Version only offers 500 keywords while Business provides 10,000. Business Rank Math also has additional support for client sites.
Rank Math vs Yoast SEO: Which is better?
SEO is necessary for your website if you need to be visible online. Rank Math and Yoast SEO are both great SEO plugins you can choose from. They are both free and user-friendly.
Overall, Yoast SEO is still the number one SEO plugin due to its straightforward platform and comprehensive content analysis. It has a long track record and has been around the market for more than ten years, with a well-founded community of users. However, Rank Math has recently gained popularity since its launch.
Rank Math gives more features in the free version compared to Yoast SEO, such as 404 detection, local SEO features, internal link suggestions, and multiple keywords. If you require these features, then Rank Math is great for you.
However, if you are the type of person who only needs these SEO plugins to optimize the SEO Title, Meta Description, and Target Keyword, perhaps Yoast SEO is better for you.
In summary;
Yoast SEO is a great SEO tool for those who are only learning how to optimize their content. The free version covers enough tools for users to optimize their content easily. It can guide you to maximize their content using focus keywords and how to write better articles. In addition, both the free and premium versions come with free SEO courses, which are valuable resources for first-time users who want to learn more about SEO.

Rank Math is excellent for advanced SEO specialists who need more options in ranking their pages. Rank Math offers features like analytics, keyword rank tracking, etc. It also lets you add multiple keywords and fully control your on-page SEO for free. Its interface is easy to use, and you can automate most of the SEO tasks you are not familiar with. It's robust, modular, and customizable that you can disable features you don't need. It's an awesome multifaceted SEO plugin for beginners and advanced users.