Small business owners have to juggle multiple tasks at the same time. You will most likely be your business' communicator, financial whiz, task delegator, and HR manager. In fact, 72% of small business owners constantly have to handle more tasks than time allows, according to Small Biz Trends. With working long hours being a norm, anything that could reduce and streamline the workload is highly welcome.
Lucky for you, there is a large variety of apps out there that could do the heavy lifting for you while keeping your focus on the core business processes. Most look to eliminate common mundane and repetitive processes that could easily be automated. They could also reduce common errors to protect you from having to go back to the drawing board every time you make a mistake.
This list saves you time from testing which app is best for your business and will help you identify some of the best options:
Best Finance and Accounting Apps for Small Businesses
You are on a slippery slope if you aren't keeping up with your business's cash flows. 82% of businesses fail due to cash flow problems. From invoicing clients to settling expenses, you need to keep tabs on where all your cash is going. More importantly, you ought to be ready to deal with tax season. Forget about those long and error-prone spreadsheets and try these three accounting and finance apps:
Besides having a friendly user interface, Quickbooks Online integrates with multiple other apps for easy time tracking and monitoring cash flows. You can use the app for anything finance-related, from tax accounting to inventory management, and payroll and profit analysis. It has multiple versions and price points that could be ideal for any one-man business or a growing startup.
FreshBooks allows you to oversee cash flow, invoices, expenses, and much more. The fact that it's invoicing-focused and is quite affordable makes it one of the best accounting and finance software in the market. Best of all, its customer service is great, especially whenever you need their assistance during emergencies.
If you are just getting started, Wave could be a great option for your business. It is a free application that could help you reduce your expenses. The apps allow you to access an online-based platform, a mobile invoice app, and a mobile receipts app.
Best POS and Payment Apps for Small Businesses
Payment apps are essential to ensure you get paid promptly. They also ensure your customers can pay you in a method that works for them. Plus, in case you are looking for an app to help you manage payments, small business gift cards, orders, loyalty programs, and inventory, working with a full POS system is wise. Here are some platforms that could revolutionize how your business handles payments:
Square has changed the world of payments for small businesses. It has improved how they can process credit card transactions. Whether you are looking for a simple card swiper or a full POS system, it should be among your best options. Square offers multiple hardware and software solutions, which could easily fit well with what your small business needs.
This payment solution allows you to swipe cards, key in details, or scan them with your phone camera to accept customer payments. It also allows you to monitor best-selling products, review analytical data, and even connect to your Apple watch. Best of all, it integrates seamlessly with a bevy of apps, including QuickBooks, Mint, and TurboTax.
PayPal Here can be ideal if you want to process checks, cards, and invoices over your phone. Besides providing the easiest and simplest ways to accept payments on your phone, it offers more expansive features than other apps like Square – you can handle order and inventory management easily with it. Unlike the other apps, however, it works in conjunction with your PayPal account instead of your bank account.
Best Customer Relationship Management Apps for Small Businesses
Customers are the lifeline of any business. The larger the smile on their face, the better the future of your business. With many staff members having to deal with the same customer, it can be easy to confuse customers' personal information. This may leave the customer feeling ignored. A CRM (customer relationship management) app ensures you can offer customers a personalized service, maintain customer profiles, and facilitate loyalty programs. The ideal option for you will depend on what you hold dear as a business. Three of the best apps in the market include:
Salesforce has built a name for itself globally as the go-to CRM tool for businesses. It enables you to track and manage customer profiles across multiple departments, respond to customer issues, and develop personalized marketing plans. The cheapest plan for small businesses starts at $25 per user per month, and it allows you to use the mobile app and Salesforce online.
Being a bit similar to Salesforce, the Nimble app allows you to manage customer relationships through maintaining contacts, sending outreach and marketing messages, connecting to social media, and much more. It is also easy to integrate it with multiple popular platforms, including G-suite and Office 365. However, it is more affordable to use than Salesforce, with the cheapest package going at $19 per user per month.
This app allows you to create customer loyalty and marketing programs based on where your customers interact with your business, including physical stores, online stores, or through their smartphones. It will allow you to reach customers via email or text, develop point-based reward programs, and push promotions. Spendgo also easily integrates with popular marketing, eCommerce, and POS platforms. You can access it through three payment plan levels, though you have to get a pricing quote directly from the company.
Best Time Tracking and Scheduling Apps for Small Business
If you aren't accountable enough with your time, it's easy to lose multiple hours of productivity. Distractions are everywhere and ever-ready to slow you down. Luckily, a time tracking and scheduling app can be ideal for any freelancer or business owner looking to keep themselves productive and accountable. Some of the most popular apps include:
Are you guilty of spending an eternity on specific apps like Facebook, Twitter, and online shopping platforms? RescueTime could be a great addition to your app ecosystem. It will break down the sites and apps you spend most of your time on while allowing you to set productivity goals. While the cheapest version is free, you will have to pay $9 per month for the premium version. The latter allows you to block specific sites, set notifications, and track offline activity. It's available for PC, Linux, and Mac, but only available for Android on mobile devices.
Toggl is an ideal option for any small business owner looking to log billable hours. It allows you to track every single second of your time with just one click. You can easily track multiple clients and projects, export timesheets, sync your billable hours with several project management apps, and view colorful graphs.
It will also allow you to have many employees use it, whereby you can divide them into different groups to stay organized. While the app is free for up to five users, it has a pro version that allows unlimited users at a cost of $5 per user per month. The latter will allow you to add subprojects and billable rates, among other features.
If you are looking for a mobile-based employee time management app, HotSchedules is a great consideration. The app is offered on Android and iOS app stores. It can be used to assign and manage employee time-off requests, shifts, and calendars. It has proved to be quite useful among food-service businesses like restaurants.
Best Project Management Apps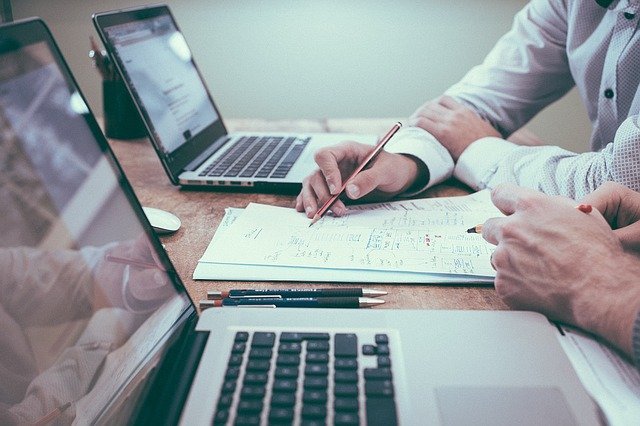 It's common for business owners to spend a lot of time trying to figure out which employee should do what task. Doing this manually can not only be draining but also be error-prone. Avoid the blame game by working with these reliable project management apps:
Trello is a great option for businesses managing multiple employees and whose projects require the implementation of larger and complicated processes. It can also be ideal when running a remote team. You can use the card-based system to create, assign, update, monitor, and complete different tasks. It offers a great way to keep all employees productive and efficient.
Best of all, Trello integrates with multiple other small business apps like Slack and Evernote. You can use the paid or free version of the app.
Unlike Trello, which uses visual cards, Asana uses a highly customizable list format. You can design the list in whichever way you prefer. Its dashboard charts also make tracking progress easy. You can chat with team members within the tasks, attach files and documents, assign due dates, and choose the kind of notifications you prefer receiving.
Best of all, the app is interoperable with multiple services like Google Drive, Slack, Evernote, WordPress, and Box. The basic version is free of charge, whereas the premium version starts at $9.99 per month.
Basecamp is the most popular app on this list and might be the easiest to use. Its streamlined and intuitive interface allows you to attach files, chat within projects, create checklists, invite collaborators, and track progress. You can also use it to create helpful workflow calendars to keep everyone on the same page. Basecamp's pricing strategy is a bit different in that you pay per project, not per user – users are unlimited. Plans range from $24 per month for 15 projects to $150 per month for unlimited projects.
Best Social Media Management Apps for Small Businesses
Social media can be an invaluable marketing gem for small businesses. With the average internet user spending an average of 142 minutes per day on social media platforms, it would be a mistake to ignore social media. Even better, most platforms have been improving the effectiveness of their marketing campaigns. For instance, Facebook has such an expansive database that you can easily send targeted and personalized ads to your ideal customer.
Social media marketing is a time-intensive task on its own. Business owners need to post at the right time, pick influencers, track data, and revamp their marketing approach when necessary. Luckily, these apps could help you save a lot of time:
Sprout Social has a social media management package that's designed specifically for small businesses. It lets entrepreneurs access content management plans, analytics, social listening, and post scheduling tools. You also get to choose the number of 'seats' (the number of employees who can use the platform). It makes posting content easy – you can either manually set post times or let the application's algorithm choose the ideal posting time for optimized visibility.
If you are tired of having to jump between different social media platforms to post and monitor posts, Hootsuite will be a great option for you. The platform allows you to post and monitor posts from multiple social media sites from the same environment. You can be in control of Facebook, Twitter, Instagram, and YouTube on a singular platform.
The platform's features, ease of use, and pricing retain it as a competitive option to date. Users can enjoy features like intuitive analytics, post-approval processes, social listening, and team management. Its pricing packages are based on features and the number of users, with the most affordable option priced at $19 per month.
This is the best option for business owners on a budget. It is similar to Hootsuite and Sprout Social but comes with a more robust mobile experience. You can easily post on-the-go with the app, though you can't access some features on mobile. While the entry-level package is free, it doesn't include social analytics or scheduling tools. The Pro package provides users with these features and much more for $15 per month.
Pick the Ideal App for Your Business
There are endless options for businesses looking to streamline their daily operations, but this doesn't make every option in this list ideal for you. Your business' best option will depend on your budget, preferred features, ease of use, and the preferred number of users. Take your time comparing and assessing the different options to pick an app that works for your business.