Table fans are important for Indian homes, whether used for cooling or as a ventilation solution. Due its high demand and rising popularity, table fans have become one of the best and most affordable investments to make for summertime. Isn't it great to be able to take your fan from one room to another and get personalised cooling on those hot afternoons? Unlike most appliances that are heavy or installed on walls, table fans are relatively simple, lightweight, and portable. One of the most critical features of a table fan is its portability. Table fan prices vary with brands and models.
Let's have a look at some of the most efficient table fans to beat the heat:
Mojo Plus White Table Fan HS 40CM (400MM)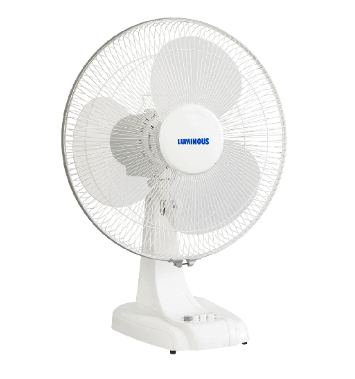 Luminous Mojo Plus White HS 40CM is a high-speed table fan with a sweep size of 400mm. It gives 2100 rotations per minute and consumes 130 watts of electricity. It is apt for bedrooms, drawing rooms and commercial places. It has a plastic body and a large base that prevents it from getting displaced easily. Polypropylene blades are used in this fan to ensure high-speed air transmission with minimum noise. The table fan price is INR 2790.
Speed PRO Table Fan Blue 40CM (400MM)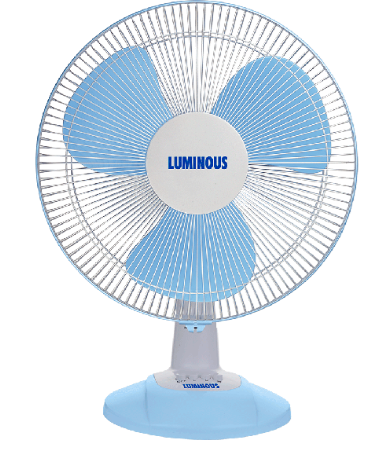 Luminous Speed Pro Table Fan Blue in 40CM is a normal speed table fan. It offers an air delivery rate of 75 CMM per hour and has a sweep size of 400mm. It has three blades and oscillates at a 90-degree angle. The motor is protected from overheating and voltage fluctuations by a thermal overload safety system. The table fan price is INR 2590.
Let's have a look at some advantages of a table fan:
The best feature of a table fan is its portability. It allows the user to transfer the fan from one location to another easily.
The table fan's high speed is appealing. When you compare table fans to ceiling fans, you'll notice that the table fans are more efficient than the ceiling fans. This is because the blades move at a much faster pace.
With the aid of an extension cord, the table fan can also be shifted to a different place. This makes it easier for people to use fans like these.
The new and improved version of table fans comes with remote control, which greatly aids in adjusting the fan's pace. It can be easily tailored to the operator's preferences.
Table fans are available in a wide range of shapes and sizes. Table fan prices vary from models to models. The majority of the models are very practical to use. This makes the whole thing more accessible to an average person. Another advantage of using a table fan is that they are very environmentally friendly. They make no contribution to global warming, which is the best feature of this fan. You should buy table fans from reputed brands like Luminous. Luminous is a trusted name and is known for its quality products.
A table fan often serves as a decorative item too. Even if a table fan isn't used in a household, it can be used as a decorative item in the living room. It can be used as a quirky accent or as a retro decor style. To decorate your house, you can choose from various colours and sizes available in online and offline stores. It's best to go with the choice that best matches the colour of the wall.