Hosting a Christmas dinner is fun and exciting but also a little exhaustive. If you plan to invite your entire family, you know it requires massive meal preparations.  Though the traditional recipes always work great, bringing some new recipes to the table is welcoming.
So while you might have perfected the recipes of all time, a little add on like CBD oil can make your dishes even more delightful. Though it may not do much for the flavor, it can add a host of health benefits to your meal. Especially with the stress of travel, a CBD oil-infused pizza can do the trick. Likewise, a gravy with CBD oil can be so therapeutic and comfortable for your digestion.
Here are some out of the box CBD infused recipes that can bring a fresh punch to you Christmas dinner and keep the traditional vibe intact.
CBD Mashed Potatoes
Ingredients
One garlic bulb
Potato – 11/2 kg
Double cream – 250 ml
Balsamic vinegar – 1 tablespoon
Parsley – 1 tablespoon (finely chopped)
Salt – to taste
Pepper – to taste
Cooking oil, preferably olive
CBD oil – 20 drops (1000 mg)
Method
A potato mash is a fantastic comfort dish that your vegan friends will love too. Drizzle some olive oil on the garlic clove and wrap it in the foil. You may start by preheating your oven at 200°C for 45 minutes. Meanwhile, in a separate pot, bring potatoes to boil by covering it with water and salt. Cook until they turn soft (at least 25 minutes). Mash the potatoes with the help of a masher. Now separate the skin of the garlic clove by squeezing the bottom. Add garlic to the potatoes and mix well.
In a separate bowl, whisk together cream and CBD oil. If you are looking for a vegan variation, you can choose almond cream and strong CBD oil. Add it to the potatoes. Also, add balsamic vinegar, fresh parsley, and mix thoroughly—season with salt and pepper. Creamy mashed potatoes are ready to be served.
1. CBD-Infused Turkey Gravy
Ingredients
Plain flour – 45 grams
Fat drippings of Roasted Turkey – 45 grams
Turkey Drippings – 250 grams
Milk – 120 ml
CBD oil – 15 mg (2.5%)
Salt – to taste
Pepper – to taste
Instructions
This recipe is a side dish that you can make from your Christmas turkey. It is no hassle dish and yet a great add on to your menu. Start by collecting the fat drippings from the roasted turkey in a tray and set them aside. Transfer it into a saucepan and cook over medium heat. Upon sizzle, whisk, and add flour.
Stir continuously until it dissolves without leaving any lumps. Now add turkey drippings along with the milk and simmer for another five minutes. Add salt and pepper. Now remove from the heat and add CBD Oil.  You can serve it as a side dish or assemble it with a roasted turkey slice.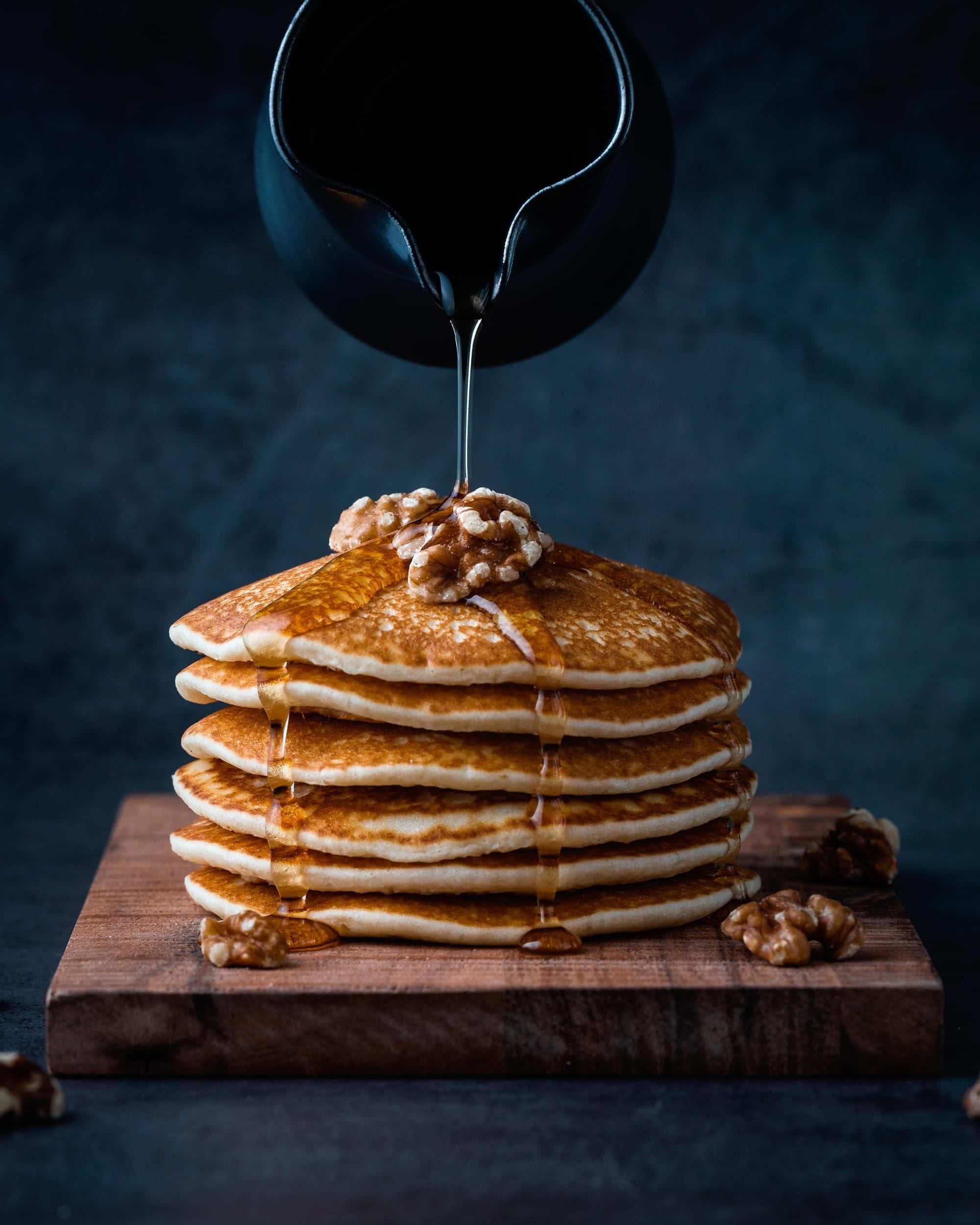 Source: Unsplash
2. Pumpkin Spice-CBD Pancake
Ingredients
Plain Flour – 1 cup
Milk – 1 cup
Egg – 1 large
Butter – 2 tablespoons
Baking powder – 2 tablespoons
Pumpkin spice – 1 teaspoon
Cinnamon – ¼ teaspoon
Salt – ¼ tablespoon
Sugar – 2 tablespoons
CBD oil – 10-15 drops
Oil for cooking
Vanilla extract – ¼ teaspoon
Instructions
On a medium flame, preheat a pan. Now sift the dry ingredients flour, sugar, spices, and baking powder in a bowl. Combine the wet ingredients egg, milk, and butter by whisking them together in a separate bowl. Gradually incorporate dry ingredients into the wet ingredients by stirring frequently and avoiding any lumps. Smoothen it into a running consistency.
On the preheated pan, lightly coat the cooking oil and pour batter to make small pancakes. Cook until the bubbles appear on the surface and flip over to cook the other side. Whisk together CBD oil, vanilla extract, and whipping cream to make the topping. Serve the pancake with the cream and banana.
3. CBD Infused Pizza With Sausages
Ingredients
Pizza dough – 12 inches
Sausages – 5 pounds
Tomatoes – 3 medium
CBD oil – 10-12 drops (1000mg)
Olive oil
Basil leaves (Dried)
Oregano leaves (Dried)fa
Mozzarella cheese – 5 pounds
Grated parmesan cheese – 2 tablespoons
Instructions
Preheat your oven to 450'. In a skillet, drizzle some oil and fry sausages until they turn golden brown. Now roll out the pizza dough by distributing it evenly. Spread a thin layer of oil and place tomatoes, sausages, and mozzarella cheese. Layer with parmesan cheese and herbs and bake for 15-20 minutes.
After you remove the pizza from the oven, sprinkle the CBD oil evenly and serve hot.
The Bottom Line
Cooking or heating CBD oil can mess with its potency. Hence it is better to introduce CBD oil after you finish cooking. One of the best times to add CBD is within a few minutes after your dish cooks. The warmth of the food allows the oil to merge well with the dish without tampering its efficacy. Whisking CBD oil in your creams, frosting, and icing are the best way to introduce them to your cakes and other baking items. Make sure you distribute it evenly among portions so that all your guests can enjoy its optimum benefits.
Disclaimer: This article is not created by Away some article. This article was created by guest post.