Starting a boutique is a dream for many millennials, especially those uniquely blessed with a great sense of selecting products, style, and color. But, if they are all the reasons you want to start a boutique for, then you are mistaken.
Forgive us if our statement seems intimidating to you. You must know that the qualities mentioned in the paragraph above may support you to some extent when you start your boutique, but they are not the factors at all.
But, let us contradict our view: "passion inspires success," and if you have a passion for fashion and style, then you have every reason to go with your initiative. Still, you need plenty of other things to run an online boutique and actually grow and be profitable.
Starting a business needs requires;
Expertise
Planning
Dedication
And, passion
So, if you have all these, you are all set to leap. And, if you are still wondering what it takes to start an online boutique, then stay tuned to this article to get everything to support your zeal.
In this guide, we have covered everything, from planning, resources to marketing, to support you make a good start.
But, before you jump headlong into planning and marketing, let's scroll through the beginning and explore how to open an online boutique.
Online Boutique from Market Perspective
$664,474 million is the total revenue projection for the fashion segment in 2020 worldwide.
The expected revenue by 2025 is US$1,003,541, with an 8.6% CAGR annually.
Apparel is the largest segment of the fashion market with a US$445,338m market volume projection in 2020.
In a nutshell:
Online Boutique from Market Perspective
$664,474 million worldwide revenue projection in 2020
Market to grow with 8.6% CAGR annually
US$1,003,541m expected revenue projection by 2025
Apparel tops fashion segment with US$445,338m market volume in 2020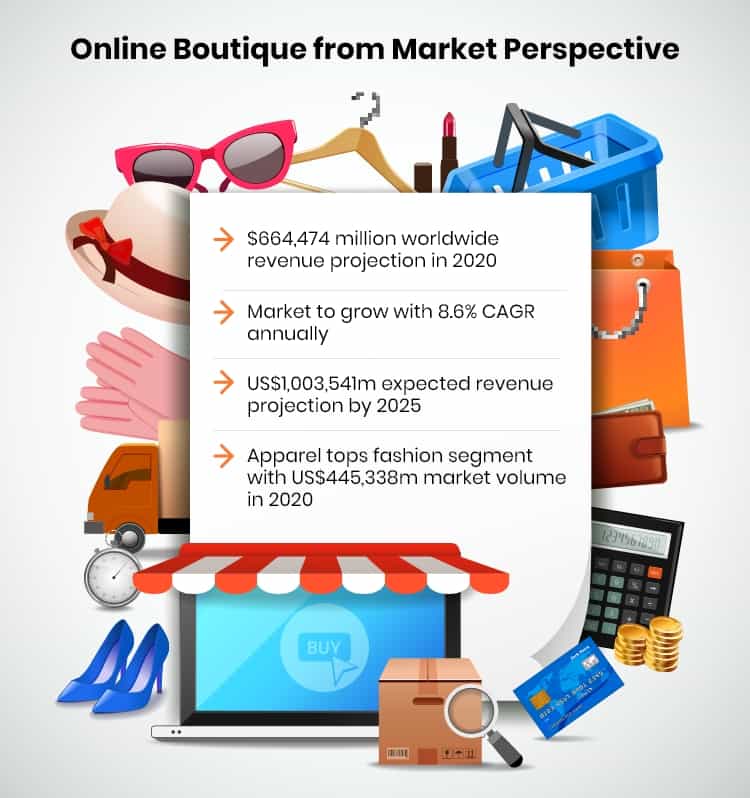 However, if we talk about the U.S. fashion market, the eCommerce apparel sale is expected to grow approximately $100bn by 2021.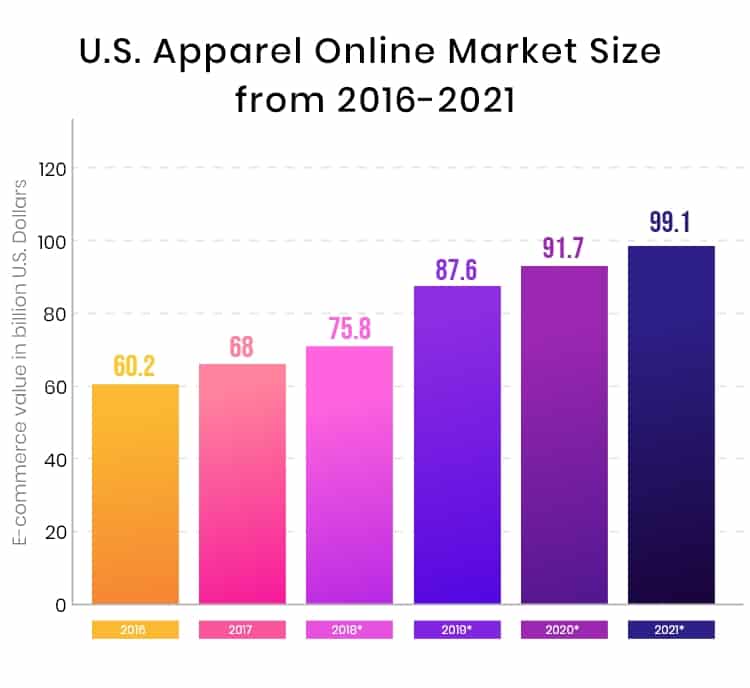 Image Source: https://www.bigcommerce.com/blog/how-to-start-an-online-boutique/#online-boutiques-by-the-numbers
However, if we talk about consumers' interests, whether they wish to purchase things fashion products online or offline, then you have some good news for your business. A survey by Statista reported that 52% of people prefer the online platform to buy clothing, shoes, and accessories, while 48% prefer offline.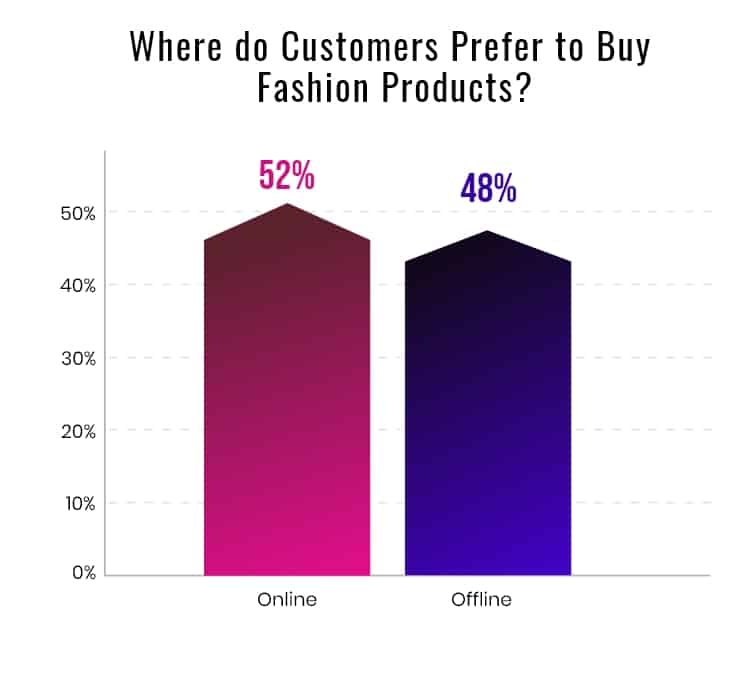 Image Source: https://www.bigcommerce.com/blog/how-to-start-an-online-boutique/#online-boutiques-by-the-numbers
However, the online shopper is expected to grow even bigger as most brick and mortar retail shops are closed due to the COVID-19 situation.
Expertise You Need for Online Boutique Business
You love exploring the perfect products; you pick the color that speaks to you and builds a brand with a perfect amalgamation of style and looks you love. But again, we are about to say the same —being a good dresser and having good taste in clothes may not be a good enough reason to start a boutique online.
There is only one reason you can open up your own boutique online: to make money, don't you?
Now think, do you have all sorts of skills and expertise to make money out of your passion, good depressing sense, and good taste for color and style?
Remember, customers don't buy the things you like. You need to separate your ownself and good taste from what actually sells.
So, what skills and expertise do you need?
The first thing, out of hundreds of skills and expertise, you need is, "How do I work as little as possible for the most amount of money?"
Passion
Networking
Marketing
Capital
Confidence
We shall discuss all these points "directly or indirectly" in the paragraphs "10 Steps to Follow to Start your Online Boutique Business." But, first, we would like to help you with the mistakes you shouldn't make.
Mistakes to Avoid while Starting Online Boutique
Mistake #1: Opening online boutique without planning
Mistake #2: Thinking money can buy you success
Mistake #3: Thinking you alone can be enough to achieve success
Mistake #4: Not able to satisfy potential customers
Mistake #5: Putting too much focus on perfection before launching
Mistake #6: Lack of passion
Mistake #7: Imitating others
Mistake #8: Not starting today or now
Mistake #9: Thinking, writing a blog is business
Mistake #10: Starting it alone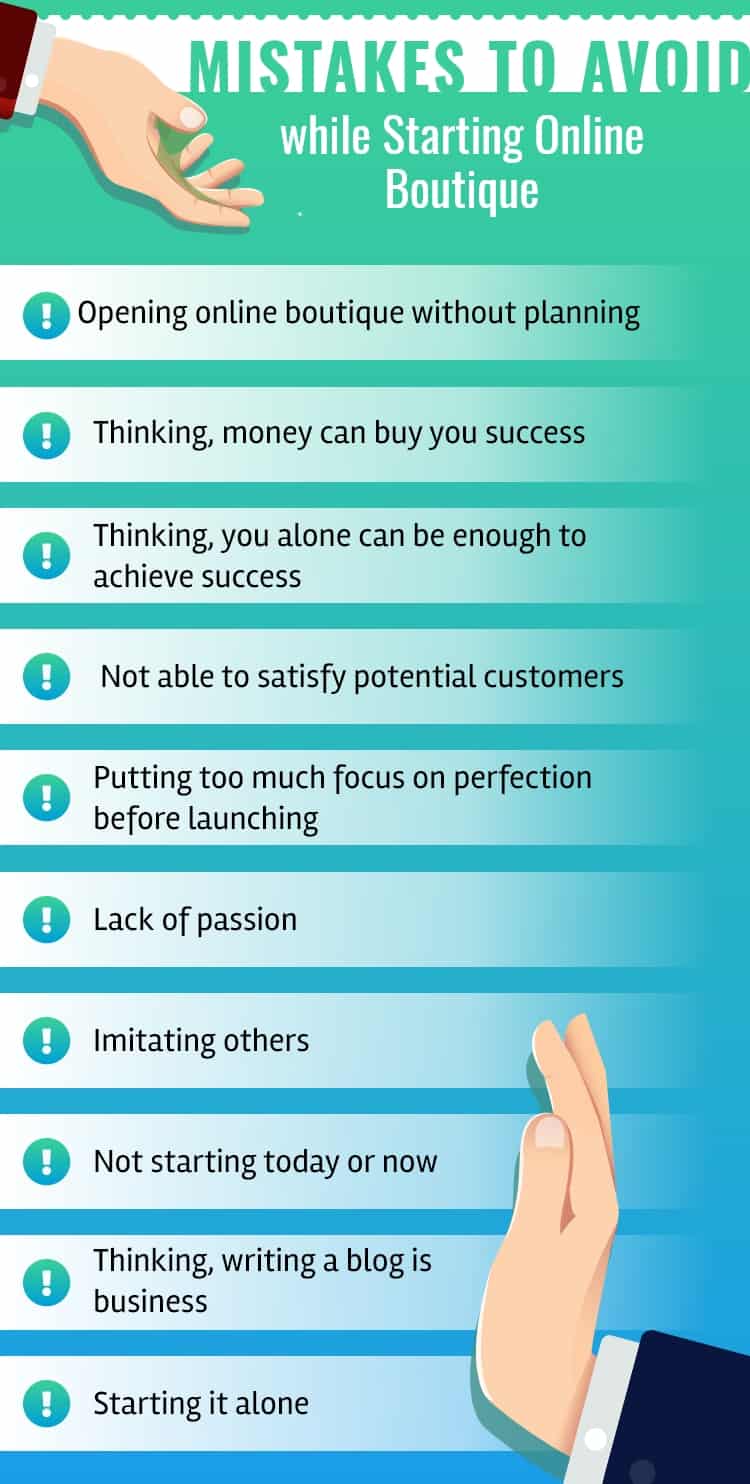 These are common yet most critical mistakes that you avoid, or else you may be out of the business soon. Now, come to the
14 Steps to Follow to Start your Online Boutique Business

#1: Decide Product Niche/Boutique Style
Even though many startup veterans know what they want to begin with, plenty of others may still be figuring out what to sell —deciding the product niche.
You need to decide whether you want to target a small or specialized section of the population and whether you want to sell;
Clothes
Trendy clothes
Festival style coles
Mens clothes
Baby clothes
Women clothes
Jewelry
Or, accessories
The best way to decide is to think about your ideal customers and what they like to buy. Do some research online, explore the regions, create buyer personas, and then take a final call. In short, get clear about who you are selling to and your target market.
#2: Come up with a Lucrative Name for Your Boutique
It's an individual choice to come up with a name for a boutique, but don't be too impulsive with your name. Come up with new ideas, arrange a few brainstorming sessions with your partners and experts, and you will get a lucrative name for your business.
#3: Create Social Media Accounts and Buy a Domain Name
The next thing you would want to do is buy a domain name and create social media profiles. You can choose any internet domain registrar to buy your domain name.
However, the four things you need to keep in mind while selecting your domain name is;
It should be unique/original
It should be easily memorable
It should be brandable
And, it should be available (to buy)
Once your domain name is decided, you need to register an email address, create Facebook, Instagram, Twitter, etc., profiles, and pages.
#4: Register your Business, Acquire Business License/Insurance
The next step you need to follow is to apply for your company registration with local and state administration, including state revenue agency and tax agency. You can also consider hiring legal experts to get advice regarding the documentation and regulatory requirements. You can do some research online to find how to register my business in your respective country.
#5: Create a Business Plan
Now, before you spend over other things, you should create an effective business plan so that you can foresee your business scope and layout the further course of action, such as goals and plans to achieve.
Even though a business plan consists of many elements and may take plenty of men hours to complete, you can create a one-page business plan for your online boutique. But, ensure that the plan consists of all the necessary elements.
Here are some of the top points to consider;
Market research
Financial planning
Market strategies
Business models
#5.1: Market research: You may have done a little market research before, but you need to dive even deeper into that.
For example;
Create a buyer persona, keeping your specific customers in mind. Include demographic information, such as your buyers' age, geographic location, incomes, likeness, etc. You can also document if they are preference regarding social media, which makes them trust regarding products, and what style they follow.
Perform a SWOT analysis to size up your competition. SWOT stands for Strengths, Weaknesses, Opportunities, and Threats. They are the techniques that help you identify your competitors and review their strengths, weaknesses, opportunities for you, and threats you face.
You can also conduct market analysis, keep your products in mind. Your research should include;
If the market is suitable for your products
If the market is big enough to survive
If there is scope to grow
#5.2: Financial planning: In this part, you will include the cost you need to operate your business and the revenue generation ideas. Besides, if you manufacture products, then what will the manufacturing costs and the price of your product.
#5.3: Market strategies: How you want to promote your online boutique. First, you use social networking sites to promote your boutique. Besides, you can also choose influencer marketing.
Even though there are plenty of ways to market your boutique, you would want to narrow it down and gradually expand your marketing strategies.
#5.4: Choose a business model: Now, you can also include in the business plan whether you want to begin with a 'stock on hand' model, dropshipping, and hand-making your pieces. You can research all these models in detail and get ideas about selecting the right business model.
#6: Choose your Platform
Well, as you have created your business plan, so you need to choose the platform. Many platforms, including Shopify, BigCommerce, and WooCommerce, can be the best suitable platform for your boutique. You can take the help of an expert to guide which technology will be the best for you. You can also explore online resources to get a better idea out of them. In short, you can decide on any platform that suits your needs and requirements.
#7: Get your Website Developed and Link Your Domain
Now, it's time to develop your website and link up with your domain. As you have created your business plan and platform, your costumes may want to know about your web address, make a delay in creating your website.
Even though when you hire developers or designers, they will assist you with everything you need for your website.
You can keep a note of a few things, such as;
Your website has visible shipping and returns information page
Vivid Contact Us page
Sizing guide and more
#8: Source your Suppliers and Order Stock
It depends on your business model. For example, if you are doing stock on hand, you can find some independent labels, stores, wholesalers, agencies for your state or country, or locality. However, if you have selected the dropshipping model, you should sample the products before you stock them. You can check through the quality and if they are matching to the requirement of potential customers.
You can also do some Google research, Instagram research, and apply other methods to find wholesalers.
#9: Decide on your Markup
You can showcase markup in your business plan as well. Markup refers to the differences between the selling price and the actual cost. For example, if a t-shirt costs $25 and its selling price is $37.5, then the markup percentage would be 50%.
In short, sales price — unit costs = markup percentage.
#10: Open Business Bank Account, Get Business Credit Cards
You must keep your personal finances separate from business finances. Therefore, the first step you should take in this regard is to open a separate account and obtain credit cards. Separate bank accounts will help you see the factors involved in managing your business. For example, you can easily spot if there is any transactional glitch annually.
#11: Packaging and Shipping Supplies
Product is crucial, in fact, everything for your business, but packaging holds equal importance too. You need to decide what you will wrap your products in, what you mail them in, or whether there will be any promo materials in the shipping packages. You can plan on promo materials so that it benefits both your customers and your business.
#12: Photograph Items and Write Descriptions
When it comes to online business, your customers essentially buy photos. They can't see or feel the item, apart from the photographs you put on your website. Therefore, you need to put some time and effort into bringing reliable visual appeal. Give as much information as you can about the products, including its size, materials, make, ideal for, and others. If you are financially equipped, you can try showing your products on models.
#13: Decide Boutique Launch Date, Do Pre-Launch Marketing
You would not want to have a social media presence when you launch your product, would you? No one will know unless you let them, and you would not let each customer individually find stuff from your website. Use social networking sites, especially Instagram, to promote your boutique. You can keep uploading videos and photos of your boutique products. You can inform users what they can avail of from the boutique how it will be beneficial to them.
You can also launch a marketing campaign to engage with your customers. For example, you can start pre-booking offers and provide some giveaway or gift cards. You can even start collecting the email addresses of customers.
#14: Finalize your Website and Launch your Boutique
Now, you are all set to launch your online boutique business. But, wait, you still have the last step left —proofread and review your website. This is a minor but most crucial step that you shouldn't forget. Check typos, get it examined on your website from your friends, family, panthers, and experts. Now, you can launch your website. We hope you make the best start.
Final Thoughts
Starting a business easy, but managing and achieving your business goal is possible but tricky if you are not dedicated to it. Make sure you follow the right business ethics, go through all tips, suggestions, and steps given here, and explore online to get some additional resources. If you are stuck anywhere in between, don't hesitate to connect with industry experts to get a guide. Good luck.