Accidentally bought a rug that's too small?
Does it appear to be floating apart from the rest of your furnishings?
Rug layering can help keep it all together!
How to Layer Your Rugs Like A Pro?
It's true, the presence of a rug can change the look of your entire space by further enhancing the visual appeal of your existing furnishings and making your décor appear more coherent.
However, if your rug isn't the right size or shape, things can go downhill.
But don't worry. A lot of homeowners undersize rather than oversize when buying rugs. In a sense, they underestimate the size of rug needed for their space and are then stuck with an expensive masterpiece that doesn't fit.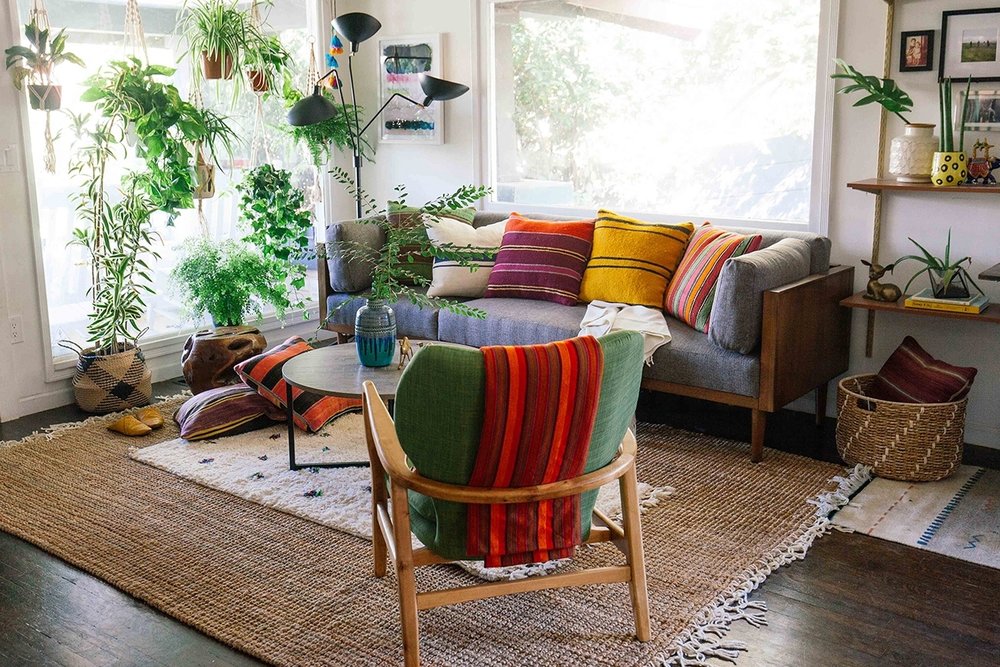 If you're buying a Khal Mohammadi rug, or any other handmade area rug for sale, I assure you getting a 4×6 can NEVER be the right size for your living room. It's way too small and won't be enough to anchor the sofas, center table, and any other major furniture items you may own.
Already made the mistake of purchasing a rug that's too small?
Don't worry, the rug layering technique can be your savior!
Follow the three simple steps below:
Step 1: Analyze the Actual Size of Rug Needed
After having already bought the wrong size of rug, you'd know how important this step is in the rug buying process.
To determine the size of rug required, take proper dimensions of your room. Ideally, the rug you buy must be large enough to incorporate all the major furniture items in the room, including the sofas, chairs, and your center-table. But remember to leave bare strips of floor on all sides so that it doesn't resemble wall-to-wall carpeting.
The most common area rug sizes are 5×8, 6×9, 8×10, and 9×12.
Here are some recommended rug sizes for various room dimensions:
| | |
| --- | --- |
| Room Size | Rug Size |
| 5×7 feet | 3×5 feet |
| 7×10 feet | 5×8 feet |
| 10×12 feet | 8×10 feet |
| 11×14 feet | 9×12 feet |
| 14×17 feet | 12×15 feet |
Apart from this, when getting a rug to place underneath your dining table, make sure it's large enough for both the table and chairs to sit entirely on the rug while there's still some extra rug extended from all sides. That's because your dining chairs shouldn't slide off of the rug when pulled out. After all, none of your guests would want to sit on a chair that's all imbalanced and wobbly.
Step 2: Get a Larger Rug that Fits Well
Done with finding out the rug size needed?
It's time to browse through those rugs for sale now!
Considering you've already invested in a rug, you may not be looking at the expensive ones this time.
The rug you purchase for layering under the smaller one must:
Match your current décor theme and blend in well with the furnishings
Have the right texture and a short pile-height
Look great when paired up with the smaller rug you already have
Apart from this, here are some basic style rules to follow:
If the smaller rug features bold hues and well-pronounced patterns, buy a larger rug that's more plain-looking and a bit less striking.
Go for contrasting colors but make sure to choose colors from a single family so the rugs may blend effortlessly.
 If choosing a patterned rug to place under another patterned one, try keeping the patterns somewhat alike with different color hues.
Avoid creating an overwhelming look by toning things down with neutral and earthy tones, such as beige, off-white, and shades of grey.
Pro Tip: If your smaller rug is traditional with dark colors and bold design patterns, such as a Khal Mohammadi or Bokhara, buy a jute of sisal rug to go with it. The neutral colors can easily blend in with both cool and warm tones.
You can also pick one color from the traditional rug's patterns and get a plain large rug in the similar shade.
Step 3: Layer the Rugs Together
When layering your rugs, never use a high-pile on bottom because that can cause the smaller rug to get all wrinkled up and become a tripping hazard.
Also, place the rugs and furniture in a manner that everything is centralized and no furniture item sits partially on one rug and partially on the other. For instance, your center table should be entirely on top of the smaller rug.
If you don't want to take any style risks by layering the rugs diagonally, go with the classic rug layering look with the smaller rug placed perfectly in the middle on top of the larger one.
Lastly, don't pair up a bunch of bright colorful rugs in a room that's already filled with furniture which is either too big or too bold in color.