iPhone very popular in the world. Many Apple fans are captured by its design and performance. Because of its good quality, an iPhone could be used for years. During its life span, there could a lot of data stored on iPhone. If you don't take care of your data, it could be gone for many reasons.
Data loss has made thousands of people and companies losing fortune. In fact, even iPhone is regarded the very safe place to store data, many users still reported losing photos, contacts, or more data after dropping iPhone to the ground or water or updating iOS, so backing up iPhone is very necessary.
You will get 3 easy ways in this passage to backup your iPhone to computer or to the cloud server.
Method 1. Backup iPhone to computer with AOMEI MBackupper (Recommended)
Have you ever given up backing up iPhone because the process is too complicated? In fact, backing up iPhone should be very easy.
AOMEI MBackupper is the best iPhone backup software. It is not only very easy to use, but also user-friendly in all aspects. You can use it to save photos, videos, music, contacts, and messages from iPhone to computer.
What makes AOMEI MBackupper outstanding?
l  Fast Speed: AOMEI MBackupper is the fast iPhone backup software among the competitors.
l  Free Software: You can transfer unlimited data between iPhone and computer.
l  Select Data: You can preview and select needed iPhone data to backup or restore.
l  External Drive: You can store your backup copy to any partition on computer or external drive.
l  No Damage: You can transfer data from backup to any other iPhone without rewriting iPhone.
l  Always Useful: AOMEI MBackupper support all the iOS devices, including iPhone, iPad, and iPod Touch.
Step 1. Get AOMEI MBackupper from the web free of charge. Plug iPhone into computer with lightning cable.
Step 2. Select Custom Backup in AOMEI MBackupper to show all the available iPhone data. If you just want to backup iPhone photos, you can select Photos Backup to avoid filtering other iPhone data.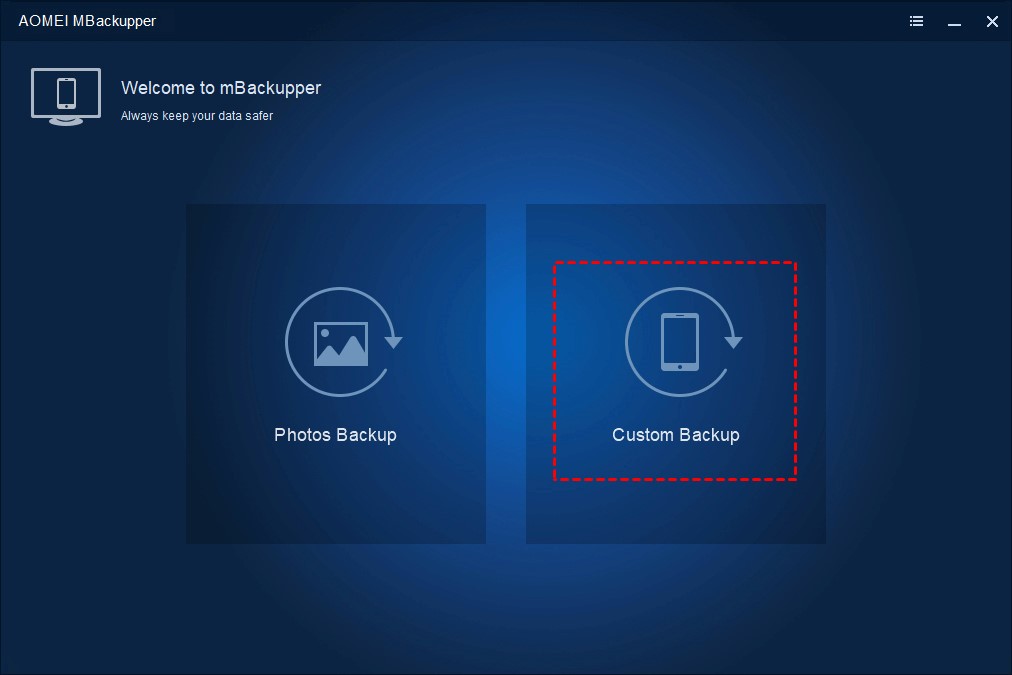 Step 3. Click an icon in this interface to have an overview of iPhone data.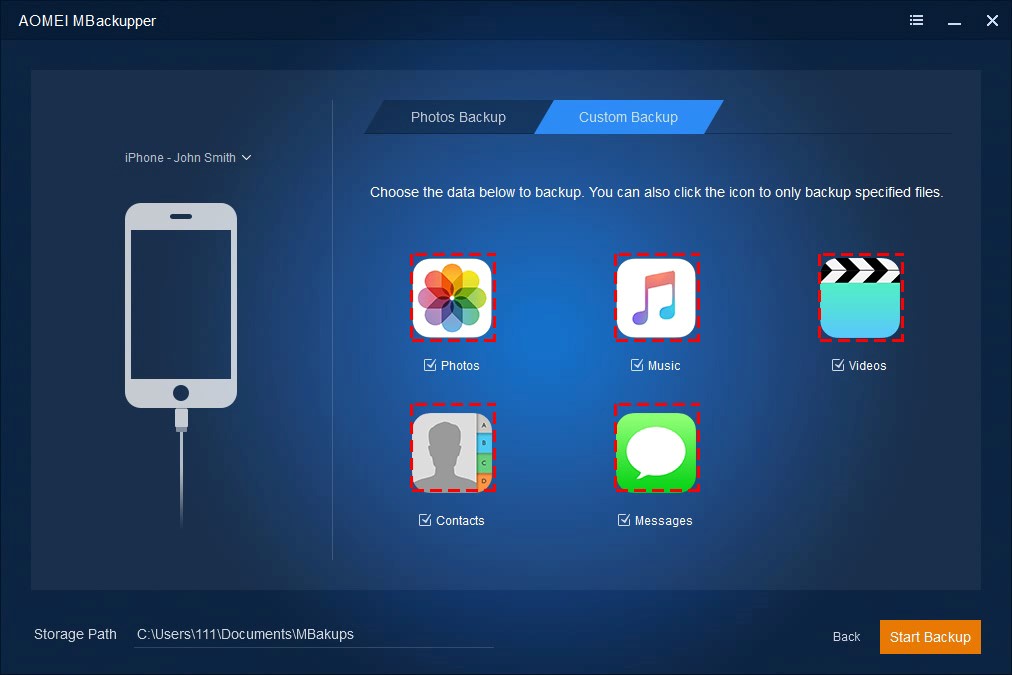 Step 4. Select the needed iPhone data and click OK to return to home screen.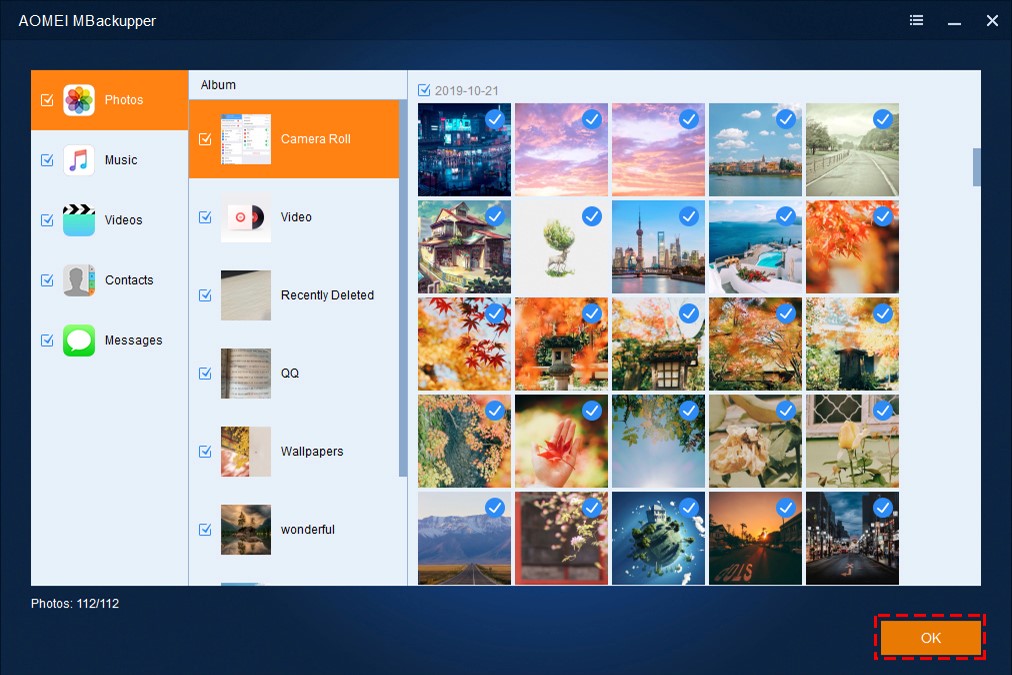 Step 5. Select storage path and click Start Backup.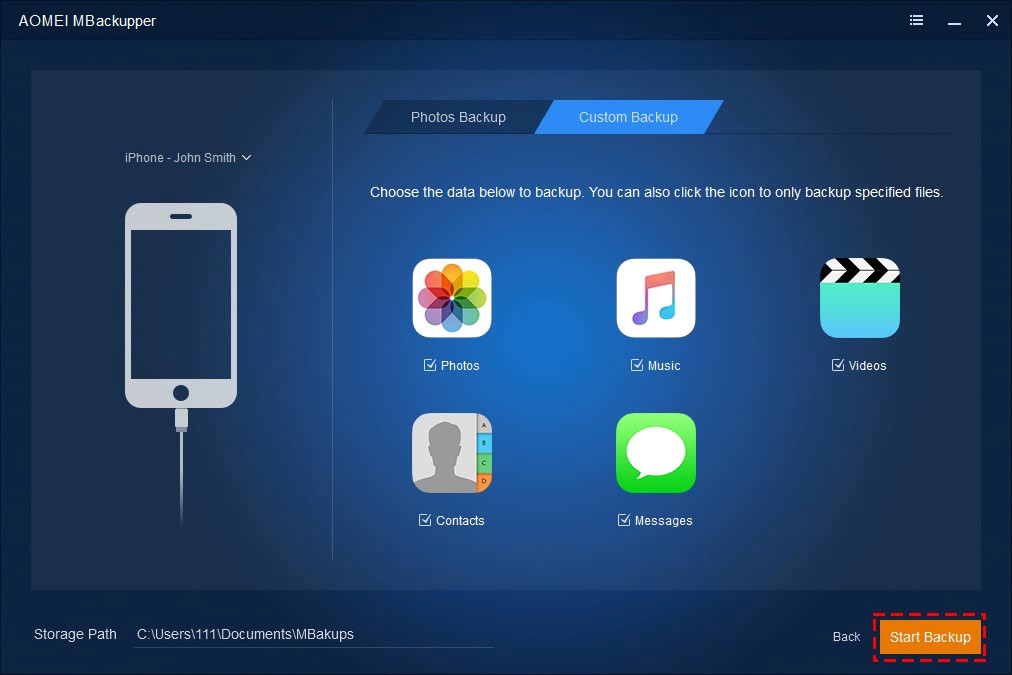 Method 2. Backup iPhone to computer with iTunes
You might often purchase music, TV shows, or movies in iTunes. In fact, it could also be used to backup your iPhone. Backing up iPhone to compute saves most of iPhone data to computer but there are some disadvantages.
You cannot view iPhone data if you use iTunes. Although it is said that most app data and iPhone settings would be saved, you cannot make sure your needed data would be saved.
Every time you backup iPhone with iTunes, the images files (usually larger than 5GB) will be saved to C drive, and it's hard to change the default destination to another partition, so your C Drive will be jammed with iTunes backup.
When you restore iPhone with iTunes, all your data will be removed before importing data from iTunes backup.
Step 1. Use a lightning cable to connect iPhone to iTunes.
Step 2. Click the phone icon at the top of the window.
Step 3. Select Back Up Now and wait for it copying iPhone data (usually more than 15 minutes)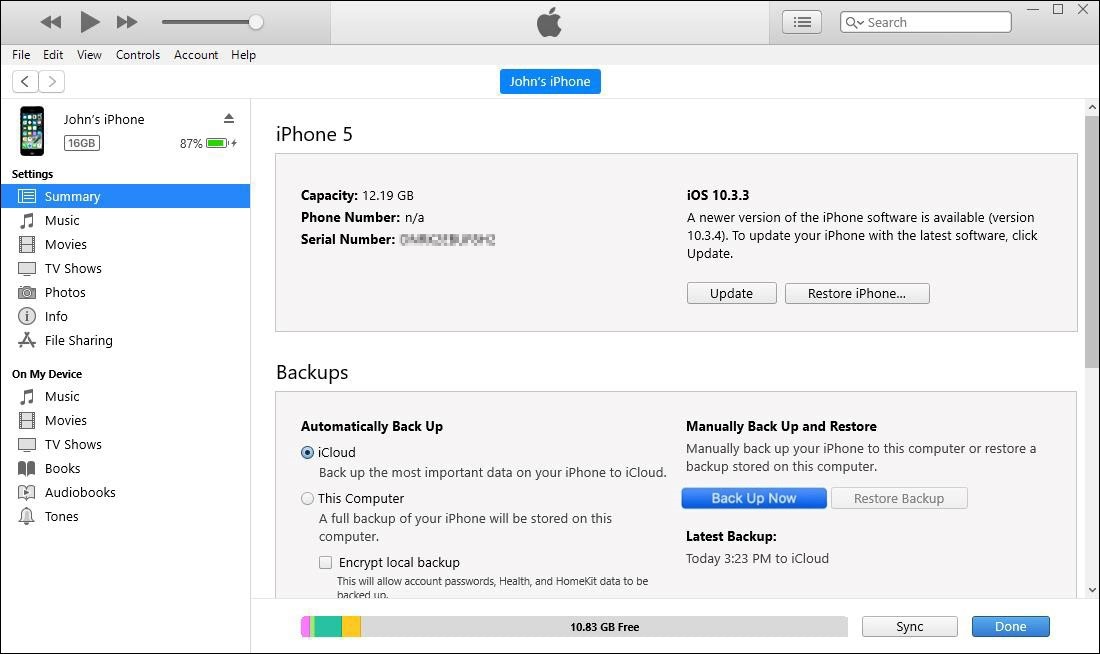 Method 3. Backup iPhone to iCloud
iCloud saves nearly the same thing like iTunes. Except for full backup, iCloud also allows you to save just photos, or messages. If you have done that, they would be not be saved to the full iPhone backup again.
iCloud doesn't support partially restore iPhone, too. You cannot preview iPhone data and restoration will cause losing everything on iPhone. You have just 5GB of free storage in iCloud. If you want to save more data, you need to pay for upgrading plan.
 To backup iPhone to iCloud, you just need to connect iPhone to Wi-Fi, and then go to iPhone Settings > [your name] > iCloud > Backup > switch on iCloud Backup > tap Back Up Now.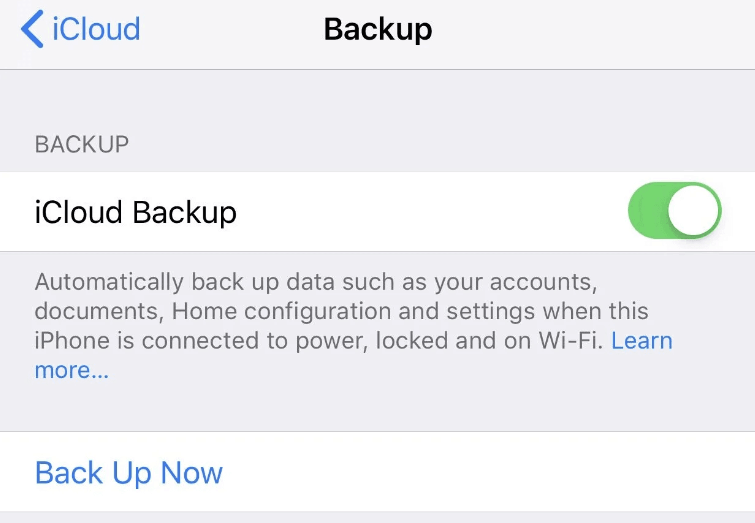 Conclusion
You have got 3 ways to backup your iPhone now. AOMEI MBackupper and iTunes helps you backup iPhone to computer and iCloud could backup your iPhone to the cloud server.
AOMEI MBackupper is considered the best iPhone backup tool because it is free, fast and user-friendly.