You probably have heard from many different people that a VPN ensures online security & privacy. If you are thinking that your work on the internet is not so confidential so you don't want to use a VPN service then maybe you're wrong.
A Virtual Private Network has some of the most amazing benefits that you haven't think. And when you are getting all these amazing benefits at the cheapest price then you should look definitely look into it.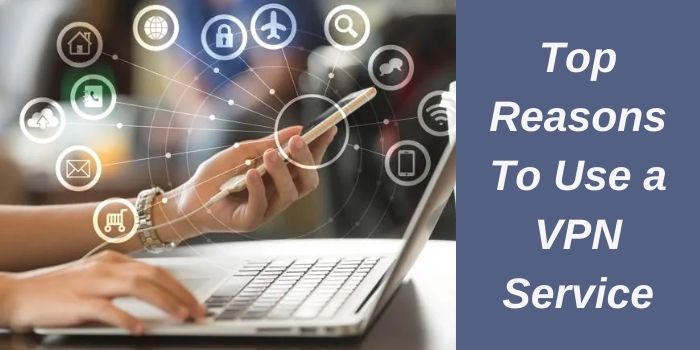 So, without talking anymore let's dive into this article.
Top 7 Reasons To Use A VPN Service
Here are the top reasons to use a VPN service that can blow your mind.
Hides Your Online Activity – Well, I don't think that you aren't for this reason. A VPN helps to browse you on the internet privately & anonymously. It hides your online activities not only from the trackers but also from your ISP that can see all your online activities. A good always have a no-logs policy that means the VPN provider also doesn't track, sell, or interfere with any of your online activities.
Safer Internet – A good VPN establishes a secure & encrypted tunnel between you and the internet so that all your data will be converted in an encrypted form. You can do safe online baking, download files from torrenting sites, and surf the internet with full peace of mind using any public Wi-Fi also.
Access Geo-Restricted Content – There are sometimes when you can't reach a website of another country or region because of the geo-restrictions. A Virtual Private Network unblocks the website you want to visit with full privacy & security by changing your virtual location to some other country.
Use Public Wi-Fi Fearlessly – Online hackers always try to hack the devices connected with the public Wi-Fi like coffee shops, shopping malls, airports, etc. Thanks to the VPN that they help to prevent your online data from prying eyes when you are sharing the same network with lots of strangers.
Watch Blocked Streaming Channels – If you love to stream movies, shows, series on Netflix, Prime Videos, Hulu, Disney+, and other popular streaming channels then you should start using VPN. By connecting to the VPN, you can watch streaming content from around the world even while traveling abroad. This is one of the benefits of a VPN for personal use.
Better Online Deals – You will be targeted for higher rental & online deals when you are searching from another country. By changing your virtual location with VPN your IP address will be changed to that country. In this way, you can get cheaper air tickets, hotel rooms, car rentals, and other online deals. This is of another reason to use a VPN service in 2021.
Avoids Network Throttling – You may have experienced a slow internet speed from time to time even when you have a high connection speed. This is because of your Internet Service Provider that intentionally slows down your internet speed known as data throttling. The smart move is that you can use a VPN that will hide you and your online activities from the internet completely from your ISP. This results in avoiding the data throttling practices on you.
Well, these are some of the top reasons to use a VPN service.
Which VPN Should I Use In 2021?
As there as dozens of VPN providers out there that you will get overwhelmed. There are many VPNs that claim to be the best but in actual they aren't. Now you may be thinking about which VPN should I use?
To help you out we have the list of top 5 cheapest VPN yearly 2021 that provides all the benefits that we have discussed above. Not only this they have some great and unique features and a very good price.
CyberGhost – Starting from $2.25/month for 3 years
Surfshark VPN – From $2.49/month for 2 years
NordVPN – As lowest as $3.30/month for 2 years
IPVanish VPN – Starting from $2.40/month for 1 year
ExpressVPN – Starting from $8.32/month for 1 year
Final Thought – Reasons To Use a VPN Service
A Virtual Private Network has many different reasons and advantages to use a VPN service. Some use the VPN for personal use and for entertainment like streaming, torrenting, and gaming. Whereas some use VPN for professional use like for work and to get online security of data.
Well, the reasons would be different and you will have to figure out your need first and then go for buying a VPN. So, I hope you got to know the benefits of a VPN in 2021.