Computers have walked into people's daily life for years. They offer a place for people to study, work, and have fun. As a matter of fact, there is a lot of data stored on our computers, such as documents, pictures, videos, and games. Some data is of great importance to us and we can't afford to lose them. Then, how to prevent important data from losing? Professional backup and clone software – AOMEI Backupper can make it.
Overview of AOMEI Backupper
AOMEI Backupper Standard edition is the best free backup software as well as disk clone software designed for Windows users. It is compatible with all editions of Windows 10/8.1/8/7/Vista/XP, and it is embedded with abundant features including backup, restore, and clone.
AOMEI Backupper can not only help you with complete data protection for your PC, but also support you in data transfer between two drives. When there is something wrong, you can quickly restore your computer and data from the backup images you created before. You needn't worry about little computer knowledge, because all operations in AOMEI Backupper are quite easy.
Create a Disk Image for Your PC
AOMEI Backupper offers all-around backup solutions for Windows users. It enables you to backup the complete system, from the operating system and applications down to the folders and files.
– Multiple backup types. No matter what you want to backup, you can find the corresponding backup type like System Backup, Disk Backup, and File Backup.
– Various backup locations. AOMEI Backupper supports putting backup images in local drives, external drives, NAS devices, network locations, and cloud drives.
– Flexible backup schedule. You are allowed to set a backup task to run automatically at specified time. You can specify a time point in a day or specify a day or several days in a week or month.
– Advanced backup options. "Email notification" will inform you of backup results via emails. "Compression" will shrink backup images to some extent. "Splitting" can help you get smaller image files by dividing the large one.
To backup computer hard drive:
1. Download, install, and open this free backup software. Then, click "Backup" and go to "Disk Backup".
2. Select the hard drive of your computer to be backed up by clicking "Add Disk".
3. Select a destination path to hold the disk image. It is suggested to choose an external hard drive or network location so that the backup image won't be affected by computer errors.
4. Click "Start Backup" to begin backing up your computer disk.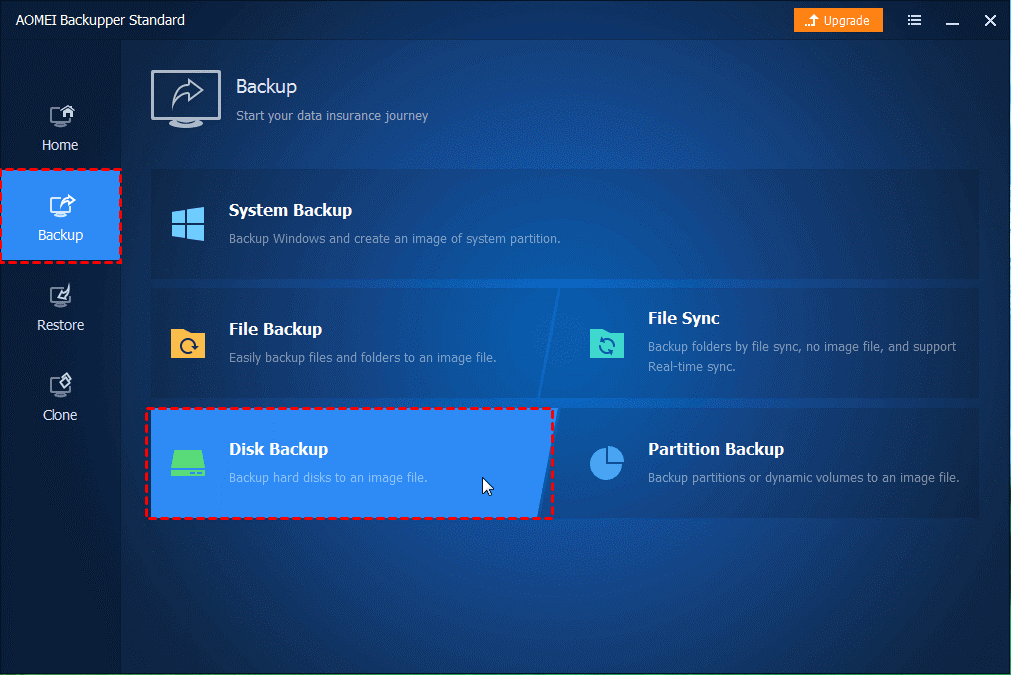 Restore Your Computer from Accidents
After you create image backups with AOMEI Backupper, you can restore your computer to a normal state, recover a faulty disk, and retrieve lost files easily and quickly.
– Selective restore. If you don't want to restore the whole system/disk from a system/disk image, you can mount the image as a virtual disk and copy certain files you want to get back.
– Restore to different locations. If you want to restore files from C drive to D drive or recover data from an old disk to a new disk, AOMEI Backupper can also do you a favor.
To restore computer hard drive:
1. (Optional) Boot your computer from the bootable device created by AOMEI Backupper. If your computer still boots successfully, then skip to Step 2.
2. Run AOMEI Backupper, click "Home" on the left pane, and select "Restore" from the disk backup task.
3. Click on the disk you plan to restore, select "Restore the entire disk", and click "Next".
4. Select a destination disk to hold recovered data and click "Next".
5. Click "Start Restore" to begin disk recovery.
Clone an HDD to an SSD
AOMEI Backupper is also powerful disk clone software. You can use it to copy data from one hard drive to another or copy one partition to another partition.
– All common hard disk types. AOMEI Backupper supports IDE/SATA/iSCSI/SCSI disks, HDDs/SSDs/SSHDs, and all kinds of USB flash drives. You can copy data between different kinds of disks.
– Hot clone. AOMEI Backupper is able to clone a system disk while the system is running. And you can keep using your computer while the cloning process is in progress.
To clone your computer hard drive to an SSD:
1. Connect the target SSD to your computer. Then, launch AOMEI Backupper, click "Clone" and select "Disk Clone".
2. Select the original hard drive of your computer as the source disk and click "Next".
3. Select the SSD you just connected as the destination disk and click "Next".
4. Check "SSD Alignment" to improve SSD performance and click "Start Clone" to execute the operation.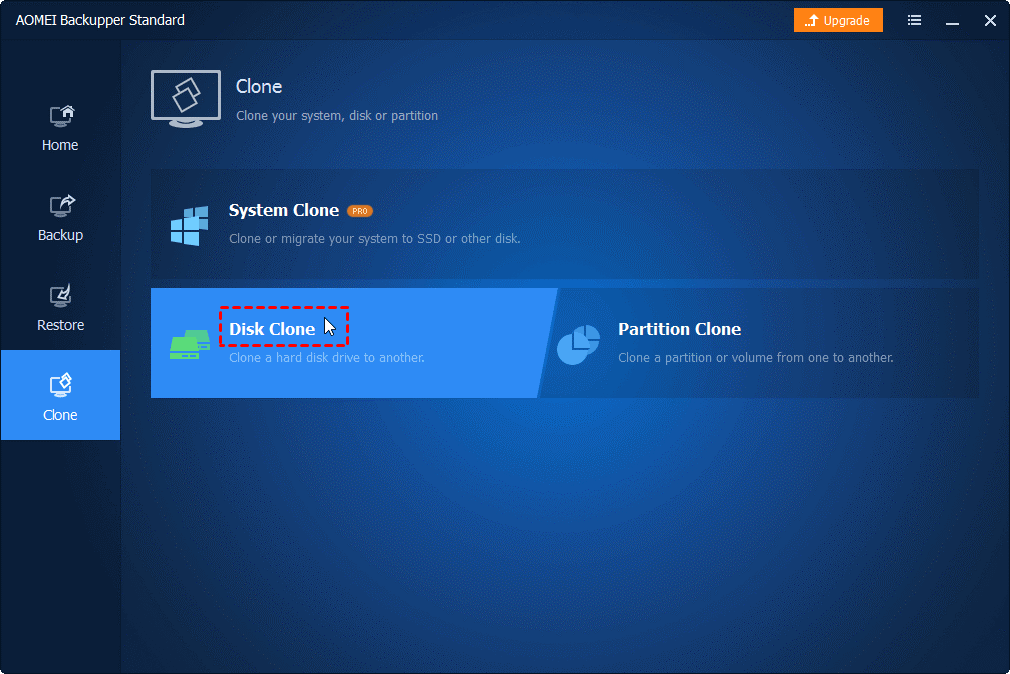 The End
Whether you want to protect data on your PC or transfer data from one hard drive to another, AOMEI Backupper can do you a favor. You don't need to be tech-savvy, because the program has an intuitive GUI.